Facebook CEO Mark Zuckerberg went to work this week helping to build an F-150 on the assembly line at the Ford Rouge Plant in Dearborn, Michigan.
Besides working on the nation's best-selling truck, Zuckerberg also toured the factory with Ford Executive Chairman Bill Ford and met with workers to learn more about working at the storied plant. He posted pictures and wrote about his trip on his Facebook page:
"It's my first time in Michigan, and my first stop was at the Ford Rouge Plant outside Detroit. I played a very small part in assembling some new Ford F-150s on the line by adding antennas, cleats and drilling screws. I even signed the inspection sticker on one. You're welcome, future F-150 owner.
"But the most interesting part was sitting down with some of the people who do this every day. Working on the line at an assembly plant is physically hard, and the people I met talked about how tiring it is and how worn down you get.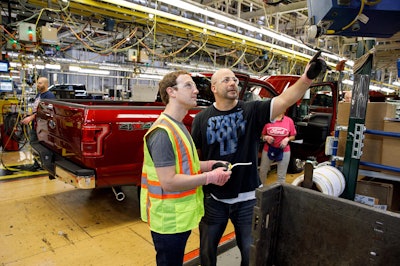 "Each person told me separately how important it is to have good shoes because you're essentially walking on a treadmill for 10 hours a day. Every 52 seconds, you have to go through your set of tasks — 650 times a day. You have to be perfect, but the biggest challenge is having the focus to do the same thing over and over again. The people I met are so good they keep the line running at full speed and listen to audio books or music in one earbud to stay engaged.
"Working at Ford is a long term thing. Most of the workers I met had been at the plant for at least a decade, and a lot of them have kids and friends who work there, too. Someone told me that when you spend 11 hours a day, four days a week together, you end up becoming family and friends outside of work, too.
"Thanks to Bill Ford and everyone I met for having me. And thanks to the line workers who checked my work."
One can't help but wonder how the trip may impact Zuckerberg's future business plans.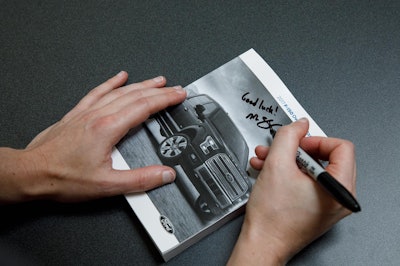 Ford spokeswoman Susan Krusel told the Detroit Free Press:
"He chose to come to Michigan this week, and meet with our employees to learn about their work and how they are incorporating new technology and innovation into their business.
"Bill Ford took him for a tour of the Dearborn Truck Plant, showing him how we are using advanced sustainable manufacturing in our operations."
Zuckerberg's visit included a stop at Ford's product development center. He rode in a Ford Fusion Hybrid autonomous research vehicle and met with Ford CEO Mark Fields which Krusel said gave him an opportunity "to get a feel for how the company is preparing for the future as it transforms to be an auto and mobility company."