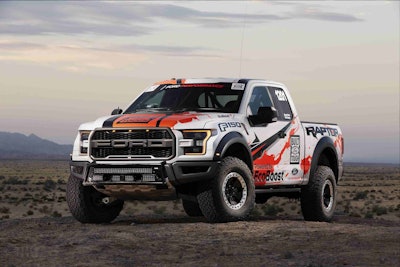 For the most part, the testing of pre-production model trucks is pretty boring. Most of it takes place fighting traffic along side the rest of us. Time is also spent whirling around test tracks and on a dyno.
But Ford put its all-new 2017 F-150 Raptor through just a bit more – like 2,481 miles of sanctioned off-road racing in the 2016 Best in the Desert season and SCORE Baja 1000.
"We didn't slap our name on a trophy truck like other manufacturers do," says Brian Bell, marketing manager for Raptor. "We ran a stock truck with full factory air conditioning, factory glass, AM/FM SIRIUS/XM satellite radio, the same engine and advanced off-road drivetrain and suspension that you'll soon see at your Ford dealer."
Fielding a production-intent F-150 Raptor equipped with race-required safety, navigation and lighting equipment Ford Performance and Greg Foutz Motorsports captured 432 points in the Pahrump Nugget 250. The team finished the race in 10 hours, 21 minutes and 59 seconds. Aside from suspension recalibrations to compensate for the added weight, Ford says the truck was showroom stock.
After logging more than 100 hours of off-road competition driving, the race truck completed the season with one factory stock 3.5-liter high-output EcoBoost V6 engine. Midseason, Ford Performance engineers swapped out the 10-speed transmission for retrofitting and evaluation.
"I know how much we abused that truck, and they were able to capture a lot of data and provide updates as the Raptor readied for production," Foutz says.
The battle-scarred Raptor racer is being shipped back to Ford Performance headquarters in Dearborn, Mich. before being put on display at the 2017 North American International Auto Show.
Ford Performance has secured mounds of data and real-world abuse testing that will help F-Series engineers better design next-generation F-150 and Super Duty trucks.