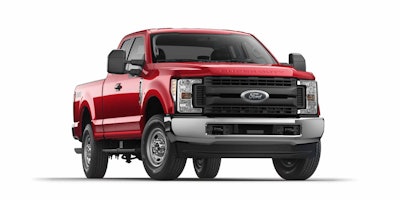 Ford is recalling roughly 8,000 2017 Ford Super Duty trucks to inspect and install a fuel tank strap reinforcement.
In the affected vehicles, over time, a missing reinforcement could lead to a fuel tank strap separating from the frame, resulting in the fuel tank moving out of position and potentially contacting the ground, increasing the risk of a fuel leak. A fuel leak in the presence of an ignition source may increase the risk of fire.
Ford is not aware of any fires, accidents or injuries associated with this issue.
Affected vehicles include certain 2017 Ford Super Duty vehicles built at Kentucky Truck Plant, Aug. 10, 2016 to Sept. 17, 2016.
There are approximately 8,069 vehicles affected, including 7,103 in the United States, 964 in Canada and two in federalized territories. The Ford reference number for this recall is 16S45.
Dealers will inspect for the presence of a reinforcement bracket on the No. 3 crossmember at the front fuel tank strap attachment location. If no reinforcement bracket is found, the dealer will install one at no cost to the customer.