Ford announced horsepower and torque ratings today for its 2017 F-150 Raptor and released a new video that demonstrates the truck's off-road capabilities.
Equipped with the all-new 3.5-liter twin-turbo high-output EcoBoost engine, the Raptor churns out 510 lb.-ft. of torque and 450 horsepower across a wide power band.
Even with a new engine, a new 10-speed transmission and exclusive transfer case, managed by a six-mode Terrain Management System, Ford has kept the base MSRP for its latest Raptor below $50,000.
"Raptor was designed to be a no-compromise, off-road performance machine," said Matt Tranter, Ford Performance engineering supervisor. "That is why we made the switch from the cast-iron V8 to the aluminum block, high-output GTDI V6 EcoBoost engine that our team tuned to add 39 horsepower and 76 lb.-ft. of torque for today's Raptor."
Using the same high-strength, military-grade aluminum alloy body and a fully boxed high-strength steel frame as the current F-150 trucks, the 2017 Raptor is up to 500 pounds lighter than the 2014 model.
The 2017 Raptor delivers a 21 percent improved average torque-to-weight ratio and a 23 percent improvement in EPA-rated combined fuel economy compared with the previous generation Raptor.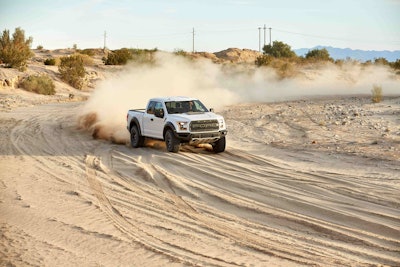 EPA estimated fuel economy ratings for the 2017 F-150 Raptor are 15 mpg city, 18 mpg highway and 16 mpg combined. Actual mileage will vary.
Further building on the power-to-weight benefits, the 2017 Raptor delivers more low-RPM torque and better optimized power bands and shift points across all two-wheel drive and four-wheel drive modes thanks to the 10-speed transmission and torque-on-demand transfer case.
"The torque-on-demand transfer case and six-mode Terrain Management System is unique to Raptor in the Ford family of vehicles," Tranter said. "It gives you the benefit of a clutched all-wheel-drive system for easy around-town maneuverability in bad weather. Then, there's Baja Mode, which automatically engages a mechanically locked 4X4 high, and optimizes throttle response, shifting and boost control to provide improved off-road capability. That's definitely drawing a line in the sand."
New 3.5-liter high-output EcoBoost engine
Ford developed the second-generation 3.5-liter EcoBoost, which the Ford Performance team then tuned specifically for the new Raptor.
Key 3.5-liter EcoBoost engine improvements include a new twin direct and port-fuel injection strategy, stronger and lighter crank and valvetrain components, a redesigned twin-turbocharger system with electronic wastegate, and a redesigned valvetrain and variable-displacement oil pump.
Among the high-output EcoBoost performance enhancements for Raptor are more aggressive turbo compressors with increased boost calibrations, cast stainless steel manifolds and full dual exhaust, oil-cooled pistons and more aggressive engine control calibrations.
"Looking at the torque curve of the Raptor's EcoBoost engine, you see the twin turbos spool quicker for faster time to torque – it hammers quick and keeps delivering torque for a more brawny feel than its V8 predecessor," said Al Cockerill, Raptor's powertrain development engineer.
New 10-speed automatic transmission
The new 10-speed automatic transmission, standard on the 2017 Raptor, features Auto Start-Stop and an integrated electric pump that improve driving efficiency.
The transmission's closer ratio between gears and Ford-patented hydraulic control system better optimize the power and torque curves of the new 3.5-liter high-output EcoBoost engine.
Raptor's all-new adaptive shift algorithms monitor more than a dozen powertrain and driver control signals in real time to help ensure that the transmission is in the right gear at the right time.
Transmission modes include normal, sport, weather, mud/sand, rock/crawl and Baja modes. In addition, a high-speed, one-way clutch allows for non-sequential shifting.
Weight savings play a key role in improved shift performance. The 10-speed gearbox – the first from Ford not to employ cast-iron components – uses advanced materials and alloys that result in less weight. Additionally, an integrated torque converter/turbine clutch helps shed more than two pounds, while also reducing the packaging footprint.