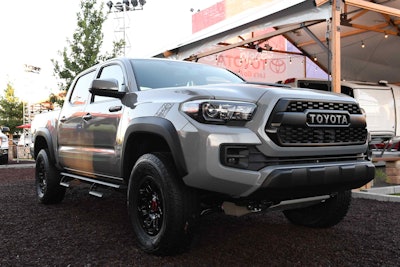 Toyota has plenty to offer during the State Fair of Texas, including the debut of its 2017 Tacoma TRD Pro pickup.
With more than 61,000 square feet of indoor and outdoor exhibit space, Toyota will display 54 vehicles including what it describes as the highlight, the 2017 Tacoma TRD Pro.
"State Fair of Texas has always been a special event for Toyota, but it holds an even more special place now that we call North Texas home," said Thomas Crahan, Toyota general manager, Truck/SUV Marketing. "This is one of the most popular events of the year across the Lone Star State, so there is no better venue for the all-new 2017 Tacoma TRD Pro to make its Texas debut."
The truck is designed to stand out with a heritage-inspired grille, headlights and taillights with blacked out inner housing that match the hood scoop and TRD Pro badging.
"The Tacoma TRD Pro will tackle the most intense off-road adventure terrain and is equipped with one of the most high-performance off-road suspension systems ever offered on a production vehicle," a representative with Toyota said.
State Fair of Texas visitors will have a wide range of experiences from Toyota at this year's event, scheduled for Sept. 30 to Oct. 23. Two new 2017 RAV4 grades, Platinum and SE Hybrid, will be on display along with FCV+, i-Road and FV2 concept vehicles.
An annual crowd favorite, members of the FC Dallas soccer club, who make their home at Toyota Stadium in Frisco, Texas, will be in attendance to take pictures and sign autographs on Sunday, Oct. 2, from 1-2:30 p.m. CDT. Toyota Fishing Pro Terry Scroggins will also be at State Fair of Texas on Saturday, Oct. 15, from 4-5 p.m. CDT.