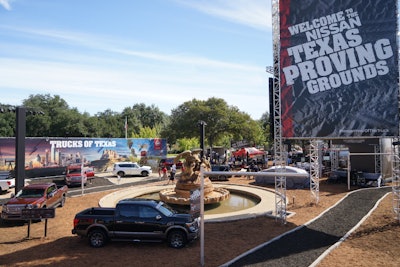 Nissan is returning to the world famous 2016 State Fair of Texas to celebrate America's truck country with free parking for pickup trucks, a chance to drive a 2017 Titan and Titan XD, a meet-and-greet with Heisman Trophy winners and an opportunity for attendees to take home the "Titan of Texas" title by competing for the best time on a Titan-inspired obstacle course.
"Nissan is back at the 130th State Fair of Texas in a big way this year," said Fred Diaz, division vice president and general manager, North America Trucks and Light Commercial Vehicles, Nissan North America.
"We're celebrating the 2017 Titan and Titan XD with several events throughout the fair, including an off-road course for fairgoers to experience the toughness and ruggedness of the full family of Nissan Titans first hand and free parking for all pickup truck drivers attending the fair."
State fair attendees can visit the Nissan display located inside the front gate, and can take advantage of the following offers and events:
Free Parking for Pickup Trucks
Nissan will be offering free parking for all pickup truck drivers, regardless of make, every day of the fair at the parking lot located at the corner of 2nd Avenue and Ash Lane, just two blocks west of the Front Gate entrance on Perry Avenue. The parking lot is complete with bigger spaces designed for pickup truck drivers, and will be fully staffed with security and product specialists. Guests will be directed to the "Titan Off-Road Experience" to ride inside Nissan's new 2017 Titan and Titan XD as they climb hills and overcome obstacles off-road.
Nissan "Titan of Texas Challenge"
Every Wednesday through Sunday during the State Fair of Texas, Nissan will be putting the best-of-the-best athletes to the test against past contestants of the TV hit show "American Ninja Warrior" for their share of $65,800 in prizes. The overall winner will receive $15,000 and the title "Titan of Texas." Designed by Adventure Solutions, the manufacturer and builder of ninja warrior courses, the "Titan of Texas Challenge" is an intense course consisting of seven tough and rugged obstacles inspired by the 2016 Nissan Titan XD, including jumping spider, traverse spinning globes, salmon ladder, and the warped wall, among others. Participants can register by visiting titanoftexaschallenge.com.
Heisman Winners & Trophy Featured at the Red River Showdown – University of Texas vs. University of Oklahoma Football Match Up
Fair attendees will have the opportunity to meet Heisman Trophy winners Earl Campbell (1977, Texas) and Billy Sims (1978, Oklahoma) and take a photo with college football's most prestigious trophy during the Red River Showdown on Saturday, October 8 from 9:00 a.m. – 10:30 a.m. CT. The Heisman Trophy winners will be signing autographs at the Nissan display, just inside the state fair front gate.
Klyde Warren Viewing Party for the Red River Showdown
At the east side of Nissan-sponsored Klyde Warren Park (2012 Woodall Rodgers Freeway) in downtown Dallas on Saturday, October 8, Nissan will host a viewing party for the University of Texas and University of Oklahoma match up. For those who do not have tickets to see the game in person, trophy winner Billy Simms and the Heisman Trophy will be at the park for autographs and photos, and a big screen will be set up to watch the game. The viewing event will take place from 9 a.m. to 3 p.m. CT and is free to the public.
Brett Young Concert to State Fair Attendees
Saturday, Oct. 8 at 8 p.m. CT, country music singer-songwriter Brett Young will put on a concert at the Nissan stage at the State Fair grounds. His first single "Sleep Without You" is quickly climbing the charts and his self-titled EP is currently available on BLMG records. You can catch him opening for Lee Brice and Justin Moore this January on the "American Made" tour.
The State Fair of Texas runs September 30 through October 23 at Fair Park in Dallas.