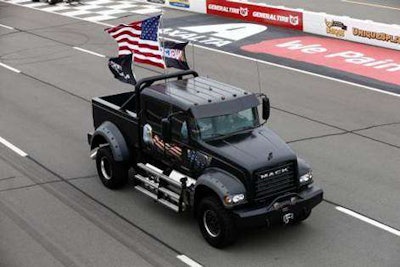 It's not every day that you see a custom built pickup from Mack Trucks, and even rarer to see one traveling around a NASCAR race track.
"Jack," a custom-built, all-wheel drive, mega crew cab Mack pickup truck, led the ceremonial laps at the Pennsylvania 400 today, carrying the American flag and the pride of Mack workers everywhere.
Named in honor of one of Mack Trucks' founders, John (Jack) M. Mack, the 800-hp one-of-a-kind truck is based on a Mack Granite model.
"Jack is not only a celebration of our rich history, but also a demonstration of the high level of customization we're capable of at our Customer Adaptation Center," said John Walsh, Mack vice president of global marketing and brand management. "Customers with specialized applications know they can count on Mack and our CAC to deliver the trucks that meet their most unique challenges."
The CAC, located within Mack's Lehigh Valley Operations assembly plant in Macungie, Pennsylvania, customizes Mack trucks for customers whose needs go beyond typical factory options. Whether adding extra brightwork for a custom long-haul sleeper, or installing an all-wheel drive system for a municipal snow plow, Mack's CAC assembles the specialty truck models to meet customer requirements.
Jack rolled off the assembly line on Oct. 27, 2015, the 151st birthday of Jack Mack. The chassis was then moved to the CAC to receive its modifications and custom fabrication work. Among Jack's unique features are:
A specially tuned, hand-built 13-liter Mack MP8® with 800 horsepower and 2,800 lb.-ft. of torque
Custom-fabricated mega crew cab body and pickup bed
46-inch tires mounted on custom wheels
All-wheel drive
Custom 8-inch dual exhaust
Back-up and side-view cameras
Touchscreen infotainment system 
-more-
3D-printed "Jack" name plates modeled on founder Jack Mack's signature
16,000 lb. winch
Jack wasn't the only Mack truck at Pocono Raceway. A fleet of custom-spec'd Mack PinnacleTM sleeper models delivered critical NASCAR technology and equipment required for the race.
Earlier this year, Mack and NASCAR signed a multi-year agreement designating Mack as the "Official Hauler of NASCAR." NASCAR's 10 Mack models log thousands of miles between racetracks, helping make every stop on the 36- race, 10-month long season a success.