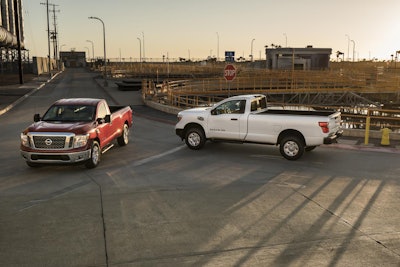 Nissan unveiled on Monday night the first single cab models in Titan's 12 year history on the road.
The 2017 Titan XD and Titan Single Cab models were designed to provide an affordable and rugged entry-point in the commercial fleet/work truck market, Nissan says.
The Single Cab is the second of three eventual Titan body specs, joining Crew Cab and a coming-soon King Cab.
Rich Miller, director of product planning for trucks, SUVs and commercial vehicles, says once Nissan completes the roll-out of all Titan's cab, bed, powertrain and grade level configurations, the pickup line will cover about 85 percent of the total light pickup marketplace.
Titan will ultimately be available in a total of three cabs, three bed lengths, three engines, 4×4 and 4×2 drive and S, SV, SL, PRO-4X and Platinum Reserve trim levels. Single Cab models go on sale this fall.
While the new single cab will be offered in both Titan XD and Titan configurations, each version will share the same cab dimensions and 8-foot pickup beds. However, each pickup gets a completely separate fully-boxed ladder frame chassis.
The TitanXD Single Cab, like the Titan XD Crew Cab, will be offered in a choice of two engines – the 5 liter Cummins V8 turbo diesel rated at 310 horsepower and 555 lb-ft of torque; and the 5.6-liter Endurance V8, rated at 390 horsepower and 394 lb-ft of torque.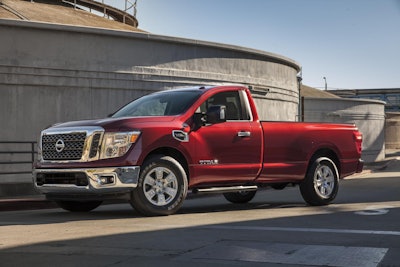 The Titan Single Cab, which has about a foot shorter wheelbase than XD, will be offered initially with the new 5.6-liter Endurance V8 with a V6 engine expected to be available at a later date. Diesel equipped models feature an Aisin 6-speed automatic transmission and V8 gasoline engine equipped versions will utilize a 7-speed automatic transmission.
Along with a choice of 4×4 and 4×2 drive configurations, two grade levels will be available with both Titan XD and Titan Single Cabs – S and SV, along with a number of optional equipment packages.
"The new Single Cab takes Titan into new territory, bringing the innovative design and bed utility that Titan has been known for to a wider base of commercial use buyers," Miller says.