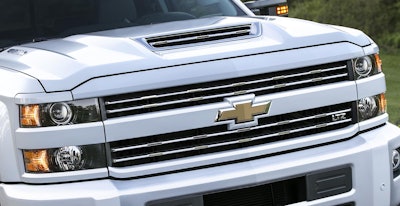 Chevrolet Silverado HD trucks will feature a new air intake system for 2017 that the company says provides cooler air for its flagship Duramax diesel engines.
Highlighted by a dramatic hood scoop, Chevy says the all-new air intake system provides 60 percent of the air to the Duramax diesel engine from an inlet at the front of the hood, with the balance coming from from the grille and a filter housing in one of the front fenders that blends airflow with air from the hood inlet before funneling it into the Duramax's combustion chambers.
"While developing this all-new induction system, we considered our customers towing a maximum-weight trailer through the Eisenhower Tunnel on a hot, rainy summer day," Eric Stanczak, chief engineer, Silverado HD, says of the highest vehicle tunnel in the world and, at more than 11,000 feet, one of the highest elevations for any roadway in North America. "The 2017 Silverado HD was engineered to provide maximum utility for our customers in even the most extreme situations."
With incoming air hitting the intake at highway speed, the system also features a ram-air effect, which helps pack more and denser air into the engine.
The functional hood scoop also includes a air/water separator to ensure only dry air is drawn into the engine. The air charge enters an expansion chamber containing a sharp, 180-degree turn on its way to the air filter housing, which creates a velocity change that causes humidity form water droplets that are flung centrifugally against the outside wall of the housing. The collected water drains through a valve, while the air charge continues on to the filter housing and into the engine.
"Big, heavy raindrops from a thunderstorm are relatively easy to eliminate from air. The more challenging issue comes from the mist-like spray generated by semitrucks on wet highways," says Kevin Dunn, global vehicle performance for splash engineering. "Those very fine water droplets prove more challenging to separate from the air. The air intake is an elegant solution that works well with water droplets of all sizes. For customers, the results delivers maximum engine performance and even greater towing confidence."