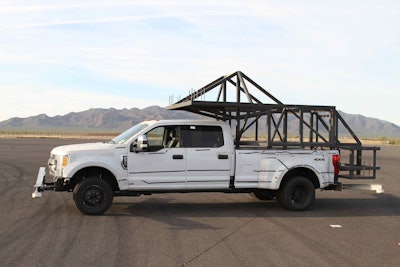 Smoking tires and a truck swerving hard all over the road.
It's another day-in-the-life for a Ford 2017 Super Duty truck during camper handling and roll testing at the Ford Proving Grounds in Arizona.
Ford released a video demonstrating the ability of an F-350 XLT 4×4 to handle adverse driving conditions while being weighed down with a simulated 7,500-pound camper. The truck is subjected to low- and high-speed lane changes as well as slalom runs.
"We put the vehicle through a lot of strenuous maneuvers," Jason Wroblewski, Ford's truck and SUV developmental engineer explains in the 50-second long video. "It puts a tremendous amount of force on the the vehicle. It's twisting and rolling. Very tough."
Watch for yourself and see as a helmet-clad driver gives the 2017 Super Duty a tough workout while computers track 10 sensors at 100 times per second.