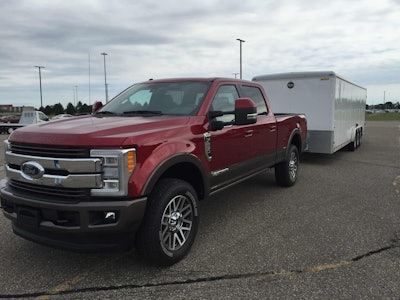 The integration of aluminum into Ford's famed F-Series pickup line was a risky move. For a brand that bills itself as "Built Ford Tough," the introduction of the lighter-weight alloy exposed the best-selling pickup brand for a generation to criticism.
Competitors pounced, but the consumers who actually buy the trucks have barely flinched. Through the first five months of this year, F-Series truck sales totaled nearly 325,000 units – up more than 7 percent.
Later this year, Ford will roll the aluminum dice again with its workhorse Super Duty line, a seemingly riskier move for a truck that is built to be a worksite warrior.
"Heavy duty customers are traditionally more accepting," says Brian Rathsburg, marketing manager for Ford's Super Duty, "because they see aluminum applications in their industry more frequently."
They also more frequently batter their truck like a work tool, but Rathsburg says those customers stand to benefit most from the use of aluminum alloy.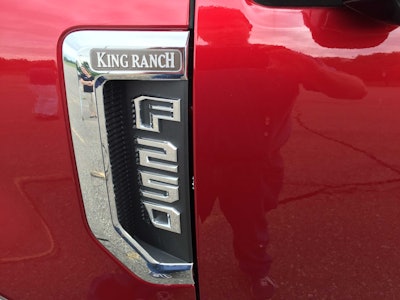 "They appreciate the longer term benefits in fuel savings and light-weighting," he says, "and that you can reinvest all the weight savings back into payload or in an upfit."
Ford isn't just giving customers a lighter truck for 2017. The refreshed 2017 Super Duty is getting a full makeover.
"The level of change to Super Duty, which has been updated less frequently than F-150, from old to new is more significant," Rathsburg notes. "Because it hasn't been changed in so long, it's a bigger deal."
Under the lighter weight aluminum body, Ford engineers beefed up the truck's frame with 95 percent high-strength steel that features more torsional rigidity than the previous frame.
Other Super Duty improvements include a larger gas tank, an integrated tailgate step and larger brakes for the F-450 and F-550.
Super Duty also features six auxiliary switches – up from four in previous model years – and they've been moved to the headliner for easier access. Amperage gets a boost from 25 to 40 amps on the first two, which are always hot. The remaining four switches are 25 amps each.
Other driver controls are closer at hand, with an integrated trailer brake controller switch located closer to the driver on the right-hand side.
Super Cab models are getting 6 inches longer, while Regular Cab and Crew Cab are stretching 4 inches each versus prior generations. Notable in the length, Rathsburg says, is that while the cabs got bigger, the cab to axle length is unchanged.
"We added more space without changing the upfit specs," he says.
For 2017, Super Duty also gets an upgrade in technology, including new advanced coaching and camera technology that makes conventional and gooseneck/fifth-wheel towing easier and more efficient.
As many as seven cameras offer views of more angles and monitor conditions surrounding the truck, along with providing better trailering. A 360-degree camera system uses four digital, high-definition cameras to give the driver a bird's-eye view surrounding their truck.
SuperCab and Crew Cab offers a completely flat second-row floor and the 2017 model year marks the first time vinyl flooring will be made available across the Super Duty lineup. They were previously offered for XL and XLT trim levels. Base vinyl flooring is standard on XL models and optional on XLT and Lariat. Super Duty King Ranch and Platinum editions get a durable, premium vinyl flooring as an option.
"Customers are still looking for the most capability," Rathsburg says, "and for years, we've given them that with Super Duty. Now, we're giving them even more."