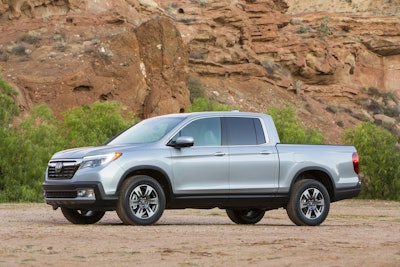 Honda Manufacturing of Alabama (HMA) on Thursday celebrated the start of mass production of the all-new 2017 Honda Ridgeline pickup truck.
"Today we celebrate the dedication of our Alabama team in bringing a very innovative new pickup truck to market," says Jeff Tomko, president of HMA. "I congratulate all of our associates for their commitment to our customers as the Ridgeline returns with new features that will deliver even more of what today's truck customers want and need."
More than 1,500 associates were on hand at the ceremony that officially launched production of Honda's American designed, developed and manufactured pickup.
at today celebrated the , slated to go on-sale soon at Honda dealerships nationwide. HMA is the exclusive manufacturer of the innovative Ridgeline that is once again challenging conventional thinking in the pickup truck market with Honda-exclusive features, design and technology that help Ridgeline set new benchmarks for versatility, capability and comfort in the midsize pickup segment.
The Ridgeline is produced in the same Alabama plant that turns out the company's Pilot SUVs and Odyssey minivans, as well as the Acura MDX luxury SUV.
Alabama is also the home of manufacturing plants for Hyundai, Toyota and Mercedes-Benz. Automobiles are Alabama's No. 1 export and, with more than a million vehicles produced in 2015, the state ranked in the Top 3 in the U.S. for vehicle exports last year.