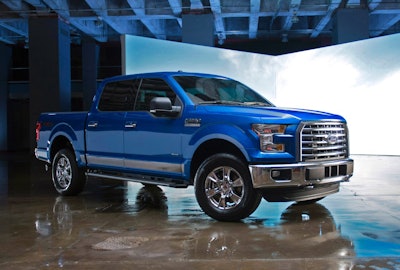 Kansas City is well-known for several things, like barbecue and sports. But the largest city in Missouri also serves as the home of Ford's F-150 assembly plant and defending baseball world champions Kansas City Royals.
Tuesday, less than a week from the first pitch of the 2016 Major League Baseball season, Ford announced a limited run of 300 Ford F-150 MVP edition trucks built at Kansas City Assembly Plant.
Based on the F-150 XLT with chrome package and available in either Oxford White or Blue Flame, F-150 MVP edition includes special MVP badging, unique polished stainless rocker panels and a spray-in bedliner.
Ford says the 2016 Ford F-150 MVP edition started as an idea from Marc Lassalle, a Kansas City Royals fan, to celebrate his team's second world championship. It follows the 1986 Ford Ranger MVP edition, created and sold in 1985 to celebrate Kansas City's first time as world champions.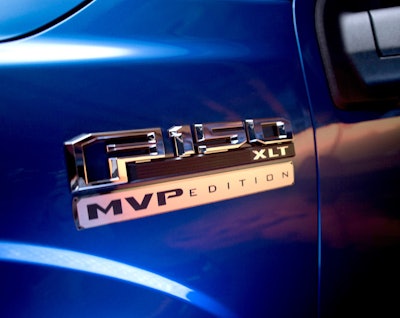 F-150 MVP edition customizations are added at Kansas City's unique SubTropolis underground business complex, where Ford applies custom accessories to its vehicles in the energy-efficient cave system.
Ford worked with former Kansas City Royals star Bret Saberhagen, from the 1985 team roster, and Salvador Pérez, from the 2015 Kansas City lineup, to promote the F-150 MVP edition.
Saberhagen will be on hand today to greet Kansas City Assembly Plant employees. Midwest Ford Dealers has also renewed its sponsorship agreement with the Kansas City Royals for 2016.
The F-150 MVP edition is on sale now at Kansas City area Ford dealers.