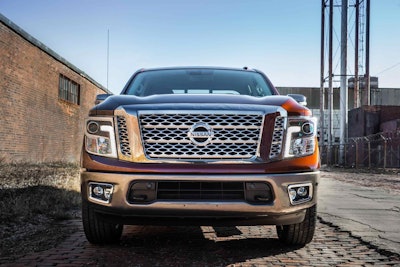 Nissan officially unveiled Thursday at the 2016 New York International Auto Show the pickup it plans to send to battle Chevy's Silverado and the Ford F-150.
The XD-inspired 2017 half-ton Titan Crew Cab, powered by Nissan's 5.6-liter Endurance V8 gasoline engine, is planned for launch later in the model year in Single and King Cab variants.
"Titan shares its aggressive style with the Titan XD, but the two vehicles are completely different underneath the skin," says Fred Diaz, Division Vice President and General Manager, North America Trucks and Light Commercial Vehicles, Nissan North America, Inc. "Between Titan and Titan XD, we will cover about 85 percent of the full-size truck market."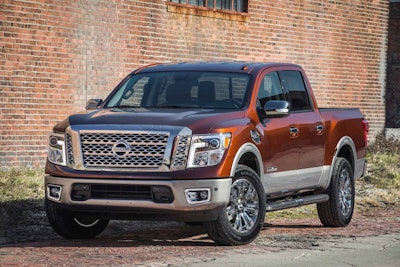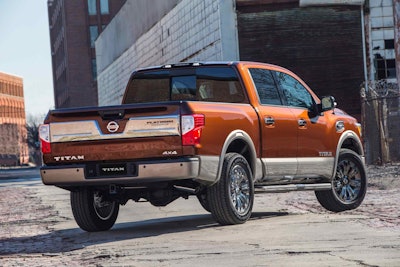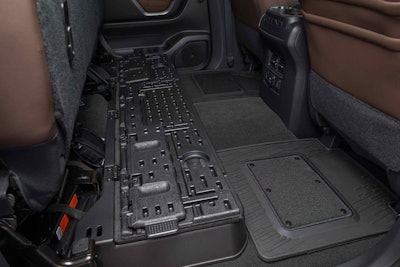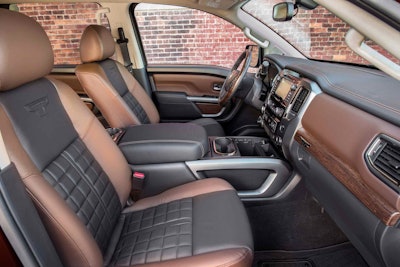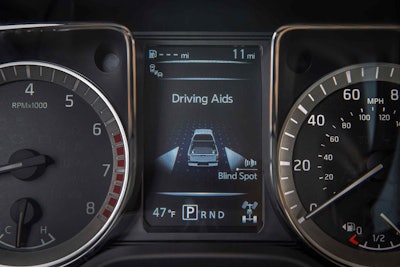 Titan is built on a separate chassis from XD, and is approximately 228.1 inches long (14.7 inches shorter than XD) and 79.5 inches wide (same as XD). Cab size is shared between the two vehicles.
"We've said before that even the lug nuts are different from Titan to Titan XD," adds Diaz.

Titan will be available in 4×2 or 4×4 drive configurations and three bed lengths – 5.5, 6.5 and 8 feet and available in five trim levels – S, SV, PRO-4X, SL and Platinum Reserve.
Titan will get Nissan's 5.6-liter 390 horsepower Endurance V8 gasoline engine, which will also be featured in the gas-version of Titan XD and will be mated to a 7-speed automatic transmission. A V6 gasoline engine will also be available, but Nissan says details on that engine will be announced later.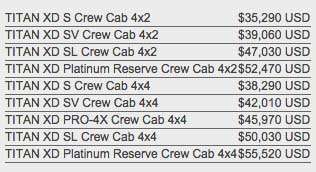 Nissan didn't announce pricing for the new Titan, but did put a sticker price on the Titan XD. The new 5.6-liter Endurance V8 gasoline engine joins the Cummins 5 liter V8 Turbo Diesel as power plant options for the XD.
The gasoline V8-equipped Titan XD will initially be available in five Crew Cab trim levels in both 4×4 and 4×2 drive configurations. All Endurance V8 engine models come standard with a new 7-speed automatic transmission with Adaptive Shift Control and Downshift Rev Matching.