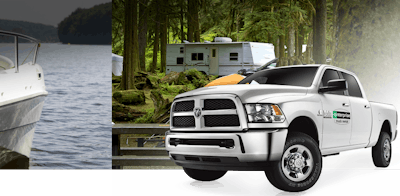 Enterprise Truck Rental announced this week that starting this spring it will be offering tow-capable pickup trucks for non-commercial use.
Growing truck rentals combined with increased demand for a personal, tow-capable pickup led Enterprise to make the decision.
"Listening and responding to our customers is critically important to the Enterprise business model," explains Frank Thurman, corporate vice president of Enterprise Truck Rental. "We place a big emphasis on providing rental solutions that support what our customers want to accomplish across all of our lines of business.
"In fact, we first decided to rent commercial trucks in 1999 based on customer demand. Then, in 2009, we started offering truck rentals for personal use because customers kept asking for that option."
Enterprise has offered tow-capable pickups to commercial renters, but this is the first time consumers have the option to rent a ¾- or 1-ton pickup truck with a hitch for towing.
Enterprise Truck Rental, a service of Enterprise Rent-A-Car, reports 25 percent year-over-year growth among its operations in more than 260 locations.
HWT Related: App based pickup service takes off in Texas
HWT Related: Uber-like truck business underway in New York