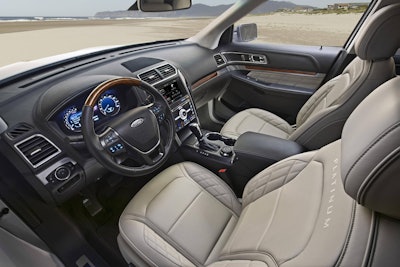 The best seat in the house may be in your driveway.
Ford's global front seat architecture, which debuted on the 2013 Escape and Fusion and have since trickled into F-150, are multi-adjustable, with features such as thigh extensions and lumbar support. Helping to reduce muscle fatigue and promoting blood flow on longer journeys, the seats can provide a subtle massage for thighs and lower back.
The seats can also warm or cool the driver and front seat passenger.
"There was skepticism as to whether building a seat structure to fit all vehicle sizes could be done," says Johnathan Line, Ford global advanced seats innovation supervisor and technical expert. "The trick was to turn our focus away from the vehicles, and concentrate instead on our customers."
The science behind front seat comfort
In the design and engineering phase, the seat team focused on items such as "H-points" and "hip-to-heel" dimensions.
These ratios represent the science that goes into creating in-vehicle comfort. Seats are designed to better cradle passengers at the hip and to prevent sliding while driving. Side bolsters and seat cushions allow more freedom of movement so drivers feel less confined.
The Ford seat team refers to the surfaces passengers touch and feel as 'top hats' – leather or cloth seat covers atop foam padding. But beneath each top hat is a seat skeleton that serves as the basis for Ford's steadily climbing rankings for comfort.
Taking cues from the office furniture and first-class air travel industries, the Ford front seat architecture is ergonomically designed to ensure each seat cradles an occupant comfortably, snug in certain places with freedom to move in others. Dan Ferretti, Ford global seats senior technical leader, highlights the commonalities and differences between seats various environments.
"Our seats are designed to hold people where they want to be held, but without being restricting," Ferretti said. "For example, the side bolsters are tapered, which allows a driver to have better movement of their arms and legs."
Plug-and-play design sets Ford seats apart
At the heart of the structure is an innovative two-piece design that consists of cushion and back frame modules – both scalable parts. These Ford-engineered parts are joined with four purchased fasteners at the back-to-cushion interfaces. They come together in a plug-and-play fashion to support more than 30 seat configurations showcasing 20-plus comfort and convenience features, including:
Inflatable lumbar, bolster and massage bladders
Two-way adjustable lumbar support
Heating and cooling
Upper back tilt
Cushion extensions
Integrated cushion suspension
Upper back bolsters
Independent thigh supports
"The plug-and-play design is really what sets this system apart," Ferretti said. "It enables the democratization of technology, so we're able to make more features available to more people."
The seat structure is mounted using rails of varying height, which makes it best suited to a vehicle's interior environment. A variety of floor-mounting pieces allows for innovative under-seat storage solutions.
Along with the comfort benefit, the high-strength steel frame and laser welding brings weight savings too, meaning improved fuel efficiency for customers. It eliminates more than 50 components, and weighs about 30 percent less than previous seat structures.
Since the debut of the common seat architecture, the number of seat systems in Ford vehicles in North America has gone from 26 to four. The structure is now used on nearly 90 percent of the company's vehicles in North America, where by 2016 Ford expects it to be on 4 million vehicles. It is gradually rolling out globally.
The most recent application can be seen on the new 2016 Ford Explorer – enabling 10-way seat adjustability, massage, and heating and cooling functionality for customers of the Platinum edition.