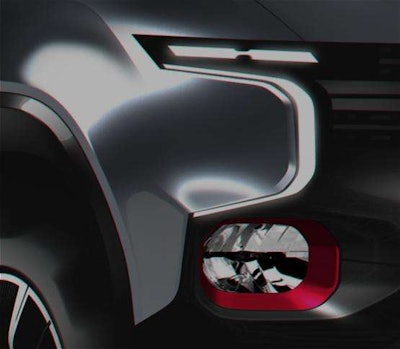 General Motors (GM) and the U.S. Army Tank Automotive Research, Development & Engineering Center (TARDEC) have modified a Chevrolet Colorado midsize pickup truck to run on a commercial hydrogen fuel cell propulsion system and plans to expose the truck to the extremes of daily military use for 12 months.
Charlie Freese, executive director of GM's Global Fuel Cell Engineering activities, says fuel cell propulsion has very high low-end torque capability useful in off-road environments, and offers exportable electric power and quiet operation.
"The potential capabilities hydrogen fuel cell vehicles can bring to the Warfighter are extraordinary, and our engineers and scientists are excited about the opportunity to exercise the limits of this demonstrator," said TARDEC Director Paul Rogers.
"FCVs are very quiet vehicles, which scouts, special operators and other specialties place a premium," he said. "What's more, fuel cells generate water as a by-product, something extremely valuable in austere environments."
GM and TARDEC have fuel cell development and research facilities located 20 minutes apart in Pontiac and Warren, Mich. The two collaborate to evaluate new fuel cell designs and materials, and TARDEC's state-of-the-art facility enables it to test and integrate fuel cell systems it has been developing for more than a decade.
In 2007, GM launched "Project Driveway," a 119-vehicle fleet of hydrogen fuel cell-equipped Chevrolet Equinoxes that were driven in daily use for more than 3 million miles by more than 5,000 consumers.
Hydrogen fuel cell propulsion technology helps address two major environmental challenges with automobiles today – petroleum use and carbon dioxide emissions. Fuel cell vehicles can operate on renewable hydrogen from sources like wind and biomass. Water vapor is the only emission.
GM says dditional product details and specific vehicle timing will be announced later.