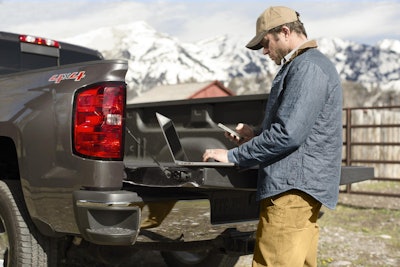 Even the best master mechanics would struggle to diagnose a problem before a failure, but Chevrolet is adding capability to its truck that can do just that.
Model year 2016 Silverados will be equipped with Proactive Alerts, which can predict and notify drivers when certain components need attention – in many cases before vehicle performance is affected, according to General Motors.
"This is a new chapter in our pursuit to provide customers with convenience and the best overall service in the industry," says Alicia Boler-Davis, General Motors senior vice president, Global Connected Customer Experience. "Using our innovative OnStar 4G LTE connectivity platform, we can actively monitor vehicle component health and notify our customers if covered vehicle components need attention. Nobody else in the industry is offering this."
GM announced in January the company was making the service available but confirmed Wednesday for the first time which vehicle would lead the roll out.
Chevrolet Silverado owners already make up the largest population of OnStar RemoteLink mobile app users, and GM says they're using the app more often than most drivers to check tire pressures, oil levels and remotely start their trucks.
"Not only can pickups provide reliable day-to-day transportation, but they're also a valuable tool for tackling projects at home or on the job site," says Jeff Luke, executive chief engineer for Silverado. "It's not surprising, then, that Silverado owners would take full advantage of RemoteLink's ability to keep tabs on the health of their Silverado."
When using the app, Remote Start and Vehicle Diagnostics are the top two most-used features by Silverado owners. Silverado is also the top model for owners to send directions from their phone to their vehicle.
Fleet customers can also stay well-informed of what's happening to each truck in their fleet, thanks to a partnership with Telogis. The company's fleet maintenance tools work in sync with OnStar technologies, allowing tracking of destination, speed and, fuel economy, engine hours, idle time and oil change status. Trucks also can be remotely locked and unlocked. Unlike trucks from other manufacturers, Telogis can connect to properly equipped Chevrolet trucks using OnStar's remote application programming interfaces in lieu of costly hardware installations in each vehicle.