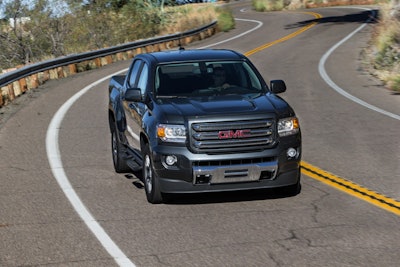 GM's new midsize pickups remain relatively unchanged for 2016; 2.8L Duramax diesel still on schedule
It's no surprise 2016 Chevrolet Colorados/GMC Canyons aren't any different mechanically or visually from the 2015s that marked GM's return back to the midsize truck market.
The biggest news: a sliding rear window will be standard on the loaded 2016 GMC Canyon SLT models and optional in the SLE trim level.
The only other news is the 2.8L Duramax diesel will be offered some time in 2016. Actual production dates have yet to be announced.
GM touts the standard 200hp 2.5L I-4 has the most power and best fuel economy (27 mpg) among the midsize 2wd class, and the the 305hp 3.6L's 26 mpg tops the 2wd V-6s.
The latter also has the highest towing capacity in the class at 7,000 pounds when "properly equipped."
First quarter sales of the 2015 Colorado/Canyon have exceeded GM's lofty expectations, outselling the competitors and having the least amount of time sitting on dealer lots, even beating out Ford's F-150 in that category.
What is surprising is GM says 53-percent of the Colorado buyers are first-time Bowtie owners.