Tough Toppers: What's New For 2015 In Pickup Bed Caps
Protecting valuable tools and equipment from the elements, and from walking off while your work truck is left unattended, are the two main reasons pickup bed toppers are a popular upfit on the commercial side.
Bed toppers, or bed shells/bed caps as some call them, are also a good way to manage cargo while extending the ability to carry longer items on the roof.
Manufacturers are constantly improving on design and construction to enhance functionality, improve durability, and extend the bed shell's life cycle.
Better sealing, better security features, and better materials all play an important role in achieving those goals.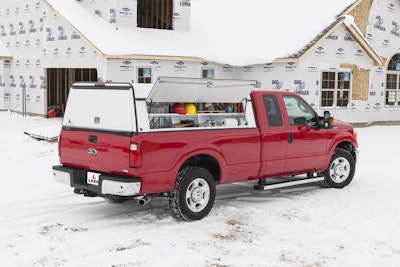 They are also adding new models to their existing line of products to keep up with changes in the new pickups coming to market where beds and cabs are getting minor mods to improve strength, aerodynamics and fuel economy.
Here're a few of the newest bed shells that are perfectly fit for those working in the construction and landscaping trades, as well as many other occupations where an open pickup bed and toolbox just doesn't work.
A.R.E. Diamond Edition DCU
A.R.E. Accessories Diamond Edition Deluxe Commercial Unit (DCU) is constructed with .063 diamond-plated aluminum and a rugged, fully-welded aluminum frame.
All DCU doors feature automotive-quality BOLT lock cylinders in folding T-handles for added security, as well as Suspa gas props on all doors.
A.R.E. offers more than 200 options including overall cap heights, door and window configurations, toolboxes, custom ladder racks, side panels, interior fabric liners and lights. www.4are.com; 330-830-7800
A.R.E. Overland
The Overland from A.R.E. Accessories offers a Line-X premium elastomeric protective coating and paint option that completely covers the unit to provide an additional layer of durability to high-stress areas in the topper.
These new options are designed to enhance the tough, off-road style of today's pickup trucks while improving durability when used in off-pavement environments.
The Line-X coating, with a distinctive pebbled finish and satin sheen, is impact-, abrasion- and solvent-resistant technology that provides an armor-like layer of protection that can withstand years of wear and tear. www.4are.com; 330-830-7800
Aluma-Line
One of the widest selection of contractor toppers is from Aluma-Line. The company's custom Contractor Truck Toppers are built with the same aluminum construction, quality materials, durability, strength and workmanship as all our aluminum products using .100 skin.
All types of shelving configurations are available along with roof racks that are strong enough to handle all your hauling needs.
In a company where "workmanship lasts a lifetime," these fully customizable toppers can be made to fit any make or model of any truck, and look any way a customer could want. Alum-Line; 800-446-1407
Alum-Line Slide-In Topper
For those who want a slide-in version of a topper, Alum-Line's Contractor model features a heavy-duty .100 diamond aluminum body with forklift pockets to make it easy to move on/off – or transfer to another pickup.
This model also includes slide-out storage tray to maximize cargo space and adjustable storage, and oversized side storage compartments.
Alum-Line's versatile slide-in topper also incorporates an eight-foot material/ladder rack. Alum-Line; 800-446-1407
Alum-Line Flip-Top
Looking for a topper that has a flip-up roof? Alum-Line's flip-top model of their Contractor Series makes loading/unloading bulky items a breeze.
The one-piece .040 white aluminum sides and top, along with the heavy-duty aluminum tube ribbing make this topper extremely durable. The top's edges drop over the walls and rear doors to provide another layer of security by keeping the swing-out rear doors from being opened.
This is an ideal topper for landscapers, or other types of business owners who need bed versatility for their work truck. Alum-Line; 800-446-1407
ATC ProSeries
The ProSeries from ATC Truck Covers, is a commercial line of aluminum truck caps that are fully customizable to help you get the job done.
With an unequalled list of standard features and options that satisfy your storage, security, capacity and performance needs, this cap will work as hard as you do. It's built with .040 aluminum skin and heavy duty aluminum frame.
ATC's ProSeries cap can be configured with hatch, lift, walk-in, or double cargo doors, and with a variety of racks and cargo storage options to meet any commercial need. ATC Truck Covers; 800-983-2787
ATC WT Heritage
Commercial pickup users looking for a strong fiberglass topper will find the ATC Truck Covers WT (Work Truck) model appealing.
It comes with all of the features from the LED line of bed caps but is 40% thicker fiberglass and has a 500-pound roof capacity.
This commercial-grade truck cap is tough, secure, and efficient. Standard features include oversize side cargo doors, paint-to-match truck, recessed rear door with dual locking t-handles, carpeted headlines and LED interior lighting front and rear. ATC Truck Covers; 800-983-2787
BrandFX Workpod
One of the most customizable inserts/toppers in the market, BrandFX's Workpod is also one of the lightest and strongest. It's composite construction is up to 40-percent lighter than comparable steel inserts, allowing the truck can carry more payload.
Available as either a self-contained slide-in unit or as a topper, flow-through ventilation, double rear doors, automotive-style seals, and one-piece molded doors are just a few of the features of the Workpod.
Options include a steel or aluminum roll-deck floor, under floor roll-out storage drawer, various storage cabinets and shelving, ladder racks, interior tie-downs, and multiple configurations of front, side and rear door windows. BrandFX Workpods come with a three-year warranty, too. BrandFXbody; (866) 431-1131
Snug Top SnugPro XL
The latest addition to the SnugTop inventory of bed shells is the SnugPro XL, a topper that turns long-bed pickups into vans.
The 300 pound fiberglass unit, which is color-matched to the vehicle in DuPont ChromaPremier paint at no extra cost, has 49-inch -wide rear door opening with a height of 44 inches.
SnugPro XL features an insulated roof, locks keyed to the vehicle's ignition key, automotive-type seals on the doors and side openings, and stainless steel hardware for long life. It's ideal for configuring with roof racks, shelving and other cargo management accessories. SnugTopCommercial; (866) 655-2339
SnugTop Outback
Having split 60/40 rear doors and overused sliding side windows, SnugTop's Outback is a popular bed cap for those who use their pickups for both work and play.
Its Advanced Structural Composite construction and additional roof reinforcement give the Outback the ability to support 500 pounds on its optional racks. This enables the owner of both short and longed pickups to equip the Outback for a variety of work and recreational pursuits.
The Outback's reinforced cap, painted to match the vehicle, has tinted glass side windows (solid sides are optional) to help provide added security. It also has interior lighting, heavy-duty hinges and hardware, and a one year warranty. SnugTopCommercial; (866) 655-2339
Swiss Commerical HDU Series
Swiss has one of the finest Heavy Duty Commercial Series aluminum caps built in America today. They are built with .030 smooth skin supported by a five-rib design with a wide variety of options to fit your specific needs.
Choose from a wide variety of rear door and window configurations, toolbox and shelving designs, cab heights, roof styles, and rack designs. Select one of the 7 standard embossed colors or have it painted any color you choose.
The Swiss commitment to excellence assures that every HDU aluminum truck cap is built with the highest quality materials and workmanship with an eye on durable service, no matter what the weather or job. Swiss Caps; (800) 243-3334
Unicover HD Pro Series
When you need a rugged truck cap loaded with tons of features and plenty of options to choose from, put Unicover's Pro Series aluminum cap to work.
The .040 skin is wrapped around a heavy-duty aluminum frame with a protective inner liner to protect from shifting cargo and tools.
Unicover's options include such items as an under-roof storage to keep a step ladder secure, and a variety of roof racks and side storage configurations.
They also offer security locks and window screens and multiple door selections so you have a cap designed to work as efficiently as you do. Unicovercaps; 800-753-2687