Distinctive styling and a few upgrades from Toyota's racing division, TRD, make this V-6-powered midsize SUV a little different breed for work and family needs
It strikes a chord of seriousness when you first lay eyes on a Toyota 4Runner TRD Pro that's devoid of the usual chrome found on most of today's SUVs and pickups.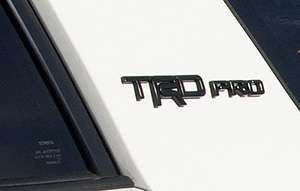 The 2015 model I'm driving is a blinding white with blacked-out grille, dark-tinted windows, black front skid plate, black spoke wheels and all-terrain tires with black sidewalls.
Its starkness looks mean in a nice way.
Last October I spent some seat time behind the wheel of Toyota's Trail Edition 4Runner. I commented in that review that the 5th generation of Toyota's most recognized SUV has "evolved into a state-of-the-art family vehicle that's loaded with safety features along with off-pavement/off-road capabilities in the 4WD models few other vehicles in the mid-size SUV class offer."
The TRD Pro model, which sits at the top of the 4Runners in price, takes that a step further with the addition of TRD's special front coils, remote-reservoir Bilstein shocks, 17-inch TRD alloy wheels, 31-inch Nitto Terra Grappler A/Ts, TRD interior trim and special exterior badging.
The price: $41,110. That's sans the remote engine start ($499), cargo rack ($185), paint film protection ($395) hitch ball mount ($60) and chromed exhaust tip ($90) found on my test truck. All told, the MSRP comes to $43,224.
That's a heft price to pay for a midsize SUV—or any midsize vehicle for that matter.
But what you get for the money is a Toyota SUV capable of taking on just about any road condition or trail where you point its nose.
I've driven this model over some of the same desert sections where off-road racers run in Nevada and felt perfectly at easy in both suspension control and traction. (This SUV loves being driven in the desert environment.)
The coil suspension, locking rear diff and a variety of traction and handling control features keep the Nittos grabbing for traction better than any other SUV in this price range. Sand, snow, mud or loose soil, the TRD Pro 4Runner makes easy work of dicey driving conditions.
The 270hp V-6 and 5-speed automatic work nicely together whether creeping along a deeply rutted logging road or rolling down the interstate.
I did find the throttle needed a deep push to kick the engine into the "let's go" mode. When it did power up, however, the acceleration is brisk and smooth, with highway handling to match.
Overall fuel economy, so-so. I managed 20.6mpg on one 410-mile road trip, lightly loaded, during a weekend coast getaway with my wife. The majority of that time being mindful of Oregon's double-nickel speed limit along Hwy 101.
Back in the big city the 4Runner yielded mid-16s. (EPA numbers: 17/18/21.)
Comfort level is what one would expect from a mid- to high-priced SUV with cloth interior: decent, but not outstanding.
That's to be expected, I guess, as Toyota's primary focus on this trim level is off-road, off-pavement performance, with traction and suspension control the main concern.
Don't get me wrong: the 4Runner TRD Pro is loaded with the latest in connectivity technology and creature comforts.
I would have liked the seats, both front and rear, to have better bolstering with a touch more plushness.
How would it work for a business owner's work vehicle? Nicely.
All 2015 4Runners have a maximum tow capacity of 4,700 pounds. So when I met with eXmark's regional sales manager, Jason Geil, to see how the TRD Pro model would handle towing one of their Lazer Z X Series commercial zero-turn mowers, I knew it'd be an easy task.
It was, and this SUV could have towed a full landscaper's work trailer as well.
I see the 4Runner easily handling being used as the occasional work vehicle, tow a nice boat, or pull a trailer full of ATVs, PWCs or snowmobiles, filling both work and family needs year around.
It also makes you look good when you take family and friends out to a nice dinner or want to get away for a long weekend that may include some travel off the beaten path.
That versatility of use is what SUVs do well, and Toyota's 5th generation 4Runner's are among the very best – the 2015 TRD Pro model being the top of that rock.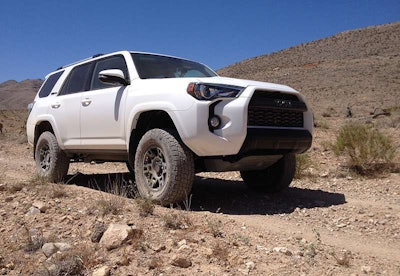 2015 Toyota 4Runner TRD Pro
Base MSRP: $41,110
Price as tested: $43,224
Engine: 270hp 4.0L V-6
Transmission: 5spd auotamtic
Axle ratio: 3.72:1 w/ rear locking diff
Transfer case: part-time 4WD
Suspension: TRD front coil springs; TRD remote-reservoir shocks
Tires/Wheels: 17×7 with 265/70R17 Nitto Terra Grappler A/Ts
Fuel capacity: 23 gals.
Fuel Economy (Observed): 20.6 hwy/16.4 city
EPA mpg: City 17/18 combined/21hwy
Towing capacity: 4,700 lbs.
Payload: 1,550 lbs.
[youtube tymz1iQEVTI nolink]
"