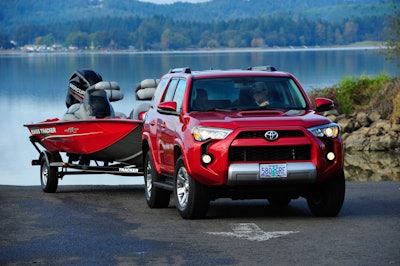 Toyota's 4Runner Trail Edition 4Runner Begs For Outdoor Adventure
While the majority of those who drive or own a work truck spend their weekdays behind the wheel of a pickup, there's a better than average chance the family vehicle is an SUV of some type.
SUVs fit nicely between a pickup and a car, and, for many families they fit the personalities and lifestyle needs better than a minivan.
The biggest segment of choices comes in the mid-size SUVs, and one of the oldest names in that group is the Toyota 4Runner.
The first model rolled out in 1984 as little more than a Toyota pickup with a fiberglass top and a second row seat similar in design to the Chevy Blazer and Ford Broncos of the day.
Thirty years and five generations later the 4Runner still uses a rugged pickup-like body-on-frame design—instead of following the unibody trend—and moved from a compact SUV to a mid-size as it grew slightly larger.
It's also evolved into a state-of-the-art family vehicle that's loaded with safety features along with off-pavement/off-road capabilities in the 4WD models few other vehicles in the mid-size SUV class offer.
I spent a week putting on more than 400 miles in a mid-trim-level 2015 Trail Edition ($38,645) 4×4 model with the 270hp 4.0L V-6 and 5spd automatic that come in all 4Runners.
What makes the Trail Edition special is it's only available as a 4×4 models and it's equipped with a part-time four-wheel-drive system so the driver can engage 4wd, and hi- or low-range, when needed instead of it being full-time AWD as is done in the base SR5 and Limited versions.
Another standard feature of the Trail Edition is an electronic-locking rear differential and Bilstein shocks, both of which add to the 4Runners off- and on-road prowess.
Trail Edition 4Runners also get "Crawl Control" and the ability to select the the of terrain one is driving in so traction control is maximized to those condiions.
Crawl Control is Toyota's version of an automatic low-speed idle so you can keep your foot off the gas in low-range 4wd and let the truck creep along at a pace you select while you concentrate on steering.
The selectable terrain dial changes the amount and sensitivity of the electronic traction control that uses braking and throttle control to provide the best traction. For example, in mud, loose soil and sand you want more wheel spin than when driving in snow or over rocky terrain.
The one big upgrade on my test vehicle was the addition of Toyota's Kinetic Dynamic Suspension System ($1,750). Basically it's a hydraulic system that can effectively disengage the front and rear stabilizer bars in off-road driving situations so the front and rear suspension travel is maximized, thus keeping the wheels on the ground longer for added traction. (KDSS doesn't engage in normal driving.)
If you take driving off-pavement and exploring the backroads seriously, KDSS is worth the added cost. If you aren't, it's not.
Although I never took this vehicle into the wilds where KDSS or Crawl Control were needed, I have used them in previous driving opportunities where Toyota showed how capable the vehicle is in extreme situations.
Believe me when I say the 4Runner is a remarkable 4×4 that has the capability to get through trails and over terrain that would stop other pickups and SUVs in their tracks before they even got started.
On a more practical driving experience, the short-wheelbase Trail Runner's everyday ride quality is on the firmer side and the steering is somewhat heavy. It handles twisting country roads with ease, with very little body lean.
The V-6 and five-speed automatic, which can me shifted to the manual-shift mode, are adjusted to stay out of the higher rpms until you really get deep into the throttle. Then the trans downshifts and the engine rpms rapidly climb, letting the 270 horses go to work.
A week of driving in a mixed bag of conditions from city to interstate to back country roads netted 20mpg. The worst I saw during those was 16.8mpg in the city and the best was 21.5mpg on the highway.
I also towed a 2,200-pound Tracker Pro Team 175 aluminum bassboat combo to see how the 4Runner responded with an average weekend recreational load.
No issues in that department; the 4Runner is very stable, with good power delivery and acceleration when needed. But it does like having the trans kicked out of overdrive for the best throttle response. Fuel economy while towing the Tracker stayed in the 15mpg range at highway speeds.
(The 4Runner has a maximum towing capacity of 4,700 pounds.)
Interior comfort is average for a mid-size SUV, it has all the creature features and creature comforts you'd expect from leather interior and heated seats to the electronic connectivity we expect these days.
Cargo space is good, and the rear seats drop flat to make a level load floor when needed.
One neat feature with the back seats is the head rests flip down and the back of the seat bases have recesses so the headrest clear without need to remove them. That's a time saver and convenience item more manufacturers should take notice how it's done.
I also like the optional ($350) slide-out floor tray that has a load capacity of 400 pounds. It's a nice back-saver when loading/unloading heavy cargo.
I don't like – or recommend – the optional $345 running boards: they aren't needed and actually hinder getting in/out of the truck.
Speaking of getting in a and out, a nice driving trait is how easily the 4Runner maneuvers in tight places; the steering is fast and the short wheelbase makes it a breeze to park and weave through crowded malls and shopping center parking lots.
So if you are in the market for a rugged, strong, family-friendly, go-anywhere, mid-size 4×4 SUV, Toyota's 5th generation 4Runner would be a good place to start looking.