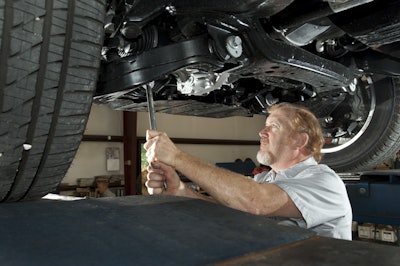 Bi-annual frontend alignments save both time and money; ROI is easy to figure for fleets
Off-road driving, hitting potholes, or nailing curbs in the winter all lead to mis-alignment issues. So does adding suspension lift and leveling kits.
If the alignment isn't put back into spec it'll lead to accelerated tire wear and a number of other suspension- and steering-related problems that cost both time and money down the road to fix.
One way to keep those costs under control is having the alignment on work trucks checked at least twice a year.
Today's sophisticated alignment systems can show camber and caster adjustment settings quickly on laptops, making the dial-in faster than ever for service technicians.
To enjoy a safer driving season and beyond, check out these alignment-related car care tips from Sears Auto that will help keep your vehicle on the road and out of the shop:
Warning Signs – If your truck is pulling to either side, or if you have to fight to keep it driving straight down the road, it probably needs an alignment service. Irregular tread wear on tires, particularly wear on just one edge of a tire, is also a sign of an alignment problem.

Today's alignment systems show graphics on laptops so techs can see where camber/caster is in relation to that vehicle's factory specs.

Fuel Efficiency – According to the EPA, a car with proper alignment will get 7 percent more miles to the gallon than a car that is out of alignment.
Stay Regular – Experts recommend a vehicle's alignment checked every year or 12,000 miles, or after certain services, such as any time a vehicle has its tires, suspension mods, struts or brakes replaced.
High Technology – Most Sears Auto Centers feature Hunter's Hawkeye Elite™ alignment technology to diagnose misalignments in 90 seconds. High-resolution cameras provide accurate alignment measurements, while an automatic VIN scan recalls the manufacturer's specifications for your vehicle. CodeLink® scanners reset steering system sensors to manufacturer settings by linking the vehicle to the aligner. Plus, printouts provide vital information on the level of wear on all wheels and tires so customers better understand their vehicle's alignment diagnosis.
For more information on Sears Auto Center services, visit its refreshed website at SearsAuto.com. The site featur