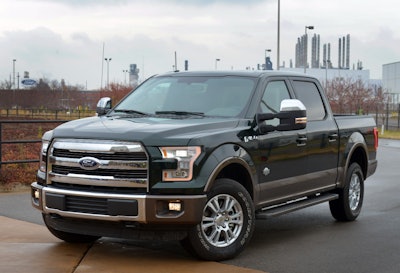 Ford has taken the first step in getting its much-anticipated 2015 F-150 to dealership lots, as the first units will rolled off Ford's Rouge Center assembly line Tuesday.
Interest in the new aluminum construction truck is at near fever pitch. Ford says since the truck was revealed in January at the 2014 North American International Auto Show, more than 225,000 truck enthusiasts have submitted their contact information for updates about the vehicle, and more than 250,000 customers have built and priced their own unique version of the all-new F-150 online – a record through 13 generations of America's favorite truck.
The new model is expected to arrive in showrooms next month.
"The all-new F-150 continues to advance my great-grandfather's vision of building vehicles we can be proud of and our customers can depend on," says Bill Ford, executive chairman, Ford Motor Company.
"The all-new F-150 is a showcase of innovation and class-leading capability for truck customers," says Mark Fields, Ford president and CEO. "It underscores the product excellence and innovation we are delivering in every part of our business as we accelerate our pace of progress toward profitable growth."
To prepare for the truck's production, Ford refurbished its Dearborn Diversified, Stamping and Tool & Die facilities, including new press lines to help stamp four different types of high-strength aluminum alloys that reduce cab and cargo box weight while improving durability. New hydroforming lines use pressurized oil to form metal tubes into strong support rails for structural soundness, a new chemical coating system prepares the aluminum for high-strength adhesives, and a new heat treat area bake hardens the alloys, resulting in more robust, durable materials, Ford says.
Five hundred new robots were added in the all-new body shop conduct state-of-the-art joining technology that leads to a tougher truck. Smaller, more compact robots install the roof and doors, transfer the vehicle to final assembly, and scan the body to ensure the highest quality standards are met.
Ford updated the Dearborn Truck Plant paint shop with dirt detection technology and increased robotic paint automation for more durable paint application resulting in best-in-class exterior appearance for the all-new F-150. Other new processes support the addition of new truck features, such as installation of a class-exclusive 360-degree camera with split-view display.