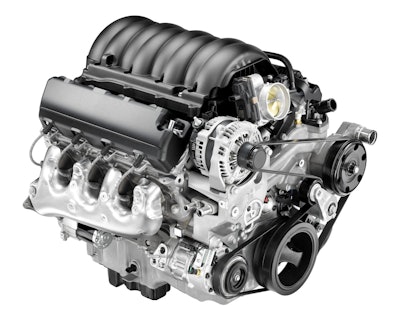 The 2015 Silverado offers a trio EcoTec3 engines with advanced features and technologies such as direct fuel injection, continuously variable valve timing and Active Fuel Management (cylinder deactivation) to provide power, torque and efficiency across a broad range of operating conditions.
"The latest Small Block engines are ideally suited to Silverado and to the tough jobs that pickup customers do every day," says Jordan Lee, global chief engineer and program manager for Small Block engines. "We give customers the power and torque of a full-size truck engine when they need it, then use Active Fuel Management and other advanced technologies to seamlessly shift to four-cylinder operation when the truck is under light loads, making the most of fuel efficiency."
Available in 2015 model pickups are a 4.3L V-6; 285 horsepower; 305 lb-ft of torque; up to 24 mpg EPA highway; 5.3L V-8; 355 horsepower; 383 lb-ft of torque; up to 23 mpg EPA highway; and 6.2L V-8; 420 horsepower; 460 lb-ft of torque; up to 21 mpg EPA highway.
"Our latest generation of Small Block engines help customers save money at the pump with engines that have been improved and by real-world experience," says John Fitzpatrick, Silverado marketing manager.
"Small Block engines have been used, abused, modified and raced in almost every type of car and truck imaginable," Lee says. "Our engineers are able to draw on that experience to build stronger, more efficient, more dependable engines for Chevy truck customers."
Chevy says its latest Gen 5 Small Block engine has endured tough testing, including a grueling performance durability procedure, where it was subjected to a high-speed/high-load torture session that simulated full-throttle blasts from the equivalent of 0 to 120 mph. With simulated transmission shift points inserted during the high-load test, the engine cycles non-stop between peak torque and peak horsepower for hundreds of hours – the equivalent of thousands of miles.
Testing on the Gen 5 Small Block that contributes to the legendary durability of the modern Small Block engines include:
Severe thermal cycle testing, which quickly cycles the engine between extreme cold and hot coolant temperatures to validate the durability of engine components such as the head gaskets, exhaust manifolds and more.
The "hot scuff" test, in which a brand-new engine – or "green" engine to the engineers – is run at wide-open throttle with no break-in period, helping test critical engine parts such as bearings, piston ring sealing and bore scuffing.
Active Fuel Management validation, which cycled the engine in and out of the cylinder-deactivating feature hundreds of thousands of times at a variety of engine speeds to ensure the performance and durability of its unique valve lifters.