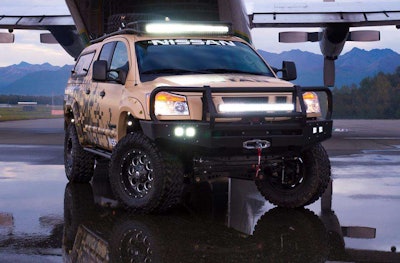 For Veterans Day, Nissan paid special tribute to the U.S. Armed Forces with the inspiring story of two Wounded Warrior Project alumni. Less than two months since returning from the trip of a lifetime, veterans David Guzman and Kevin McMahon are featured in an adventure-packed short film.
In March, Guzman and McMahon were selected to embark on an unforgettable adventure behind the wheel of Nissan's Project Titan truck. In mid-September, following months of preparation, the two veterans took off on their journey through the Alaskan wilderness in the outfitted Project Titan. The short film captures their journey and marks the culmination of Project Titan, the second crowd-sourced Nissan vehicle.
"When David Guzman and Kevin McMahon set out on this adventure, it was our goal to capture the excitement in a way that would truly represent the enthusiastic spirit of these American heroes alongside one of the toughest trucks on the planet," says Fred Diaz, senior vice president, Nissan Sales & Marketing and Operations U.S. "After months of preparation and diligent work, we've done just that in the form of this episode. We're ecstatic to have the opportunity to launch this on Veterans Day as a way to thank and honor Kevin and David, who serve as outstanding representatives for all Wounded Warrior Project Alumni."
The Warriors' ultimate Alaskan adventure was inspired by journalist Joe Byers, who presented his idea of the "ultimate adventure" during a special media event at the 2014 Shooting, Hunting and Outdoor Trade (SHOT) Show and Conference in Las Vegas.
[youtube LprTAiiByMM nolink]
When coupled with the Titan's work-hard-play-hard design and rugged construction, Byers' adventure concept would enable the wounded service members to experience Alaska's beauty from all vantage points, whether perched on a mountain in Healy or waist deep in the Kenai River.
Eight months after Byers' idea was presented, Guzman and McMahon hit the Alaska wilderness. Following a grueling adventure through the Last Frontier State, the one-of-a-kind, customized, rugged Titan proved an excellent companion.
As was expected, the two veterans encountered harsh weather conditions, difficult terrain and a multitude of obstacles throughout the expedition, but the specially equipped Titan had the answer to every challenge thrown their way.
Guzman and McMahon were welcomed back to the Lower 48 during the State Fair of Texas in October.