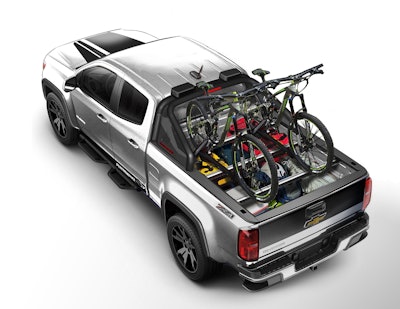 Chevrolet's 2015 Colorado is just now arriving at dealers nationwide, but GM engineers and still tinkering with ideas.
This week at the State Fair of Texas, Chevrolet introduced its Colorado Sport concept, which the company says demonstrates the lifestyle-oriented versatility of Chevy's all-new midsize pickup.
"It's not just mountain bikes, but just about any passion you can name, from kayaking, fishing, dirt bikes and more," says Tony Johnson, Colorado marketing manager. "It's a truck for those who need the versatility of a pickup to support their work and lifestyle interests, but don't need a full-size truck to do it."
The Colorado concept features an adjustable GearOn Accessory System that allows drivers to stow larger items such as bikes and kayaks above the bed, leaving room for smaller gear, such as coolers and tents, inside the bed.
Additional accessories on the truck, which GM says are all available from Chevy dealers, include assist steps, cargo rings, splash guards, tiered storage, bike rack, cargo divider and wheel lip moldings.