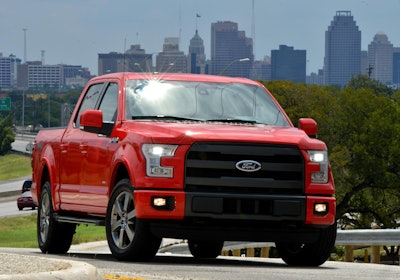 This month, the first of 10,000 dealer sales consultants began test driving Ford's 2015 F-150 in 26 cities nationwide.
These early drives are meant to help sales professionals understand the truck's strengths from the best perspective – the driver's seat. But they're not the only ones getting in on the fun.
Consumers also can test drive the all-new F-150 ahead of the truck's arrival in dealer showrooms.
Beginning Oct. 11 and running through Dec. 21, consumers in 38 U.S. cities can participate in up to 20,000 test drives of the new truck nationwide, with product experts along for the ride explaining smart new innovations and answering questions.
Consumers can preregister for drive events at F150drive.com.
Hard Working Trucks senior editor Bruce Smith is in San Antonio, Texas test driving the F-150 this week. We'll have his review and drive impressions posted soon.