RZR-sharp performance in a sporty new two-seat 4×4 ATV
A 100-foot-tall wall of red sand filled my field of vision and a rush of adrenaline flooded my veins a second before I found myself being propelled skyward.
I kept the gas pedal matted and tightened my grip on the steering wheel.
Would the machine I was driving have to power to make it to the top, or would I have to peel off and head back down the big dune?
If it makes the top, will it get airborne? Will the landing hurt?
The answers came just as quickly as the thoughts. The momentary weightless feeling of getting air followed by a soft landing as all four of the RZRs tires replanted themselves on the dune's top told me all I needed to know about Polaris' newest two-passenger ATV.
Over the course of three more hours running the dunes and trails at Utah's famous Coral Pink SandDune complex behind the wheel of the RZR "S" 900 made every smile muscle cramp up. It's that much fun.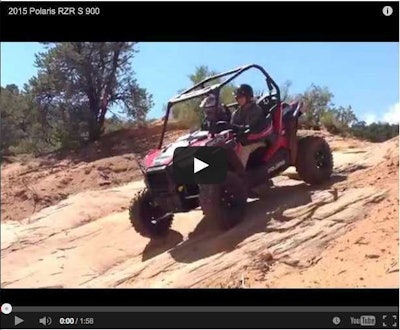 The new 900s, which replace the Polaris RZR 800 side-by-sides, are such a huge advancement in ride, handling and power over the original RZR that it's hard to describe.
The "S" model is the wider-track of two new RZRs from Polaris; a 50-inch and a 60-inch. Both of these "trail" ATVs feature a higher power-per-liter ratio than the new Corvette Stingray, and the fastest acceleration of any of Polaris' new ATVs.
Their 75hp ProStar 900 engines, dual A-arm rear suspensions, agility, seats and styling borrowed from the popular RZR XP 1000, give these sporty side-by-sides the feeling of an off-road race buggy.
The 900 "S" I was driving easily hit 45mph in low-range and is said to bust 70mph in top gear.
It's one of the most stable and powerful two-passenger side-by-sides I've driven to date. Add in the electronic power steering and disc brakes, and you have a recipe for fast fun.
The RZR 900 is also quite capable over rough terrain, or through mud and woodlands.
I spent a 1/2-day driving the 50-inch-track model with a passenger over miles of steep, rocky ATV trails. It never skipped a beat and the all-whel-drive system performed really well.
Polaris also will offer the 55-inch-track RZR 900 XC Edition with premium upgrades such Turf Mode, Electronic Power Steering (EPS) Polaris' Engine Braking System (EBS), high performance All-Wheel Drive (AWD), 27-inch GBC Dirt Commanders on 14 in/35.56 cm Vader Rims, FOX Podium X 2.0 Shocks and Polaris' new Interactive Digital Display.