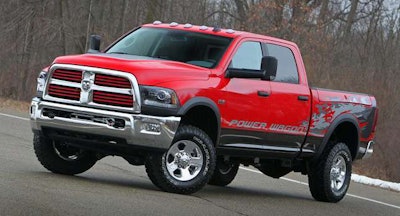 As far as cool names for sport trucks go, Power Wagon is pretty far down the list. Raptor (Ford) and Reaper (GM) both sound like something to fear.
Power Wagon sounds like a grocery-getting soccer mom-mobile with a spoiler, but anyone familiar with the supped up Ram knows otherwise.
The 2014 Ram Power Wagon features a standard 6.4-liter HEMI V-8 with best-in-class 410 horsepower and 429 lb.-ft. of torque; Unique "Ram Articulink" front suspension system incorporates high movement joints and sway-bar disconnecting system, allowing for additional flexibility and axle articulation; 5-link coil rear suspension to deliver best-in-class ride and superior axle control; Standard front and rear electronic-locking differentials for true four-wheel-drive and maximum traction; Standard Warn 12,000-lb. electric winch mounted behind the front bumper ; Up to 10,810 pounds of towing capacity; and for 2014, a new exterior design: colors, lighting, wheels, grilles and tri-color graphics.