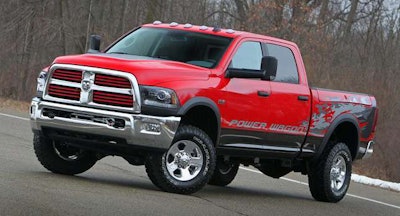 Ram 2500HD and Power Wagon Take Top Awards
Jeep and Ram Truck brands took top awards at the 2014 Texas Auto Writers Association (TAWA) Texas Truck Rodeo where 75 vehicles were put through their paces and scored by 60 TAWA members.
Ram Truck's 2015 2500HD earned a repeating title as the Heavy Duty Truck of Texas, while the 2015 Ram Power Wagon took the Off-Road Truck of Texas honors.
The Jeep brand won all five categories entered, including the coveted "SUV of Texas".
While capability is an important element considered by TAWA jurors, the organization also studies design, utility, value and technology with detailed scoring in each category.
"Once again the Chrysler Group brought an extraordinary product lineup to the Texas Truck Rodeo," said Michael Marrs, TAWA president.
"The performance and quality of the Jeep and Ram products at the Rodeo were impressive with powertrain and technology innovations that are tough to beat," said Marrs after the annual event. " The Jeep Grand Cherokee especially continues to outshine the competition by once again winning the SUV of Texas title."
"Exactly five years ago Ram Truck became its own brand and we set out to design and engineer the best trucks you can buy with fuel economy and capability top of mind," said Bob Hegbloom, President and CEO – Ram Truck Brand, Chrysler Group LLC. "Winning back-to-back awards from the Texas Auto Writers Association affirms our direction in the truck market."
Chrysler Group vehicles receiving awards at the 24th annual TAWA Texas Truck Rodeo were:
SUV of Texas: 2015 Jeep Grand Cherokee
Compact SUV of Texas: 2015 Jeep Cherokee
Mid-size SUV of Texas: 2015 Jeep Grand Cherokee
Luxury Mid-size SUV of Texas: 2015 Jeep Grand Cherokee Summit
Off-road Utility Vehicle of Texas: 2015 Jeep Wrangler
Heavy Duty Truck of Texas: 2015 Ram 2500 Heavy Duty
Off-road Truck of Texas: 2015 Ram Power Wagon
Best Powertrain: 3.0-liter EcoDiesel (Jeep Grand Cherokee, Ram 1500)
Best Connectivity: Chrysler Group UConnect (Jeep, Ram, Dodge)
[youtube 7juP7_68zec nolink]