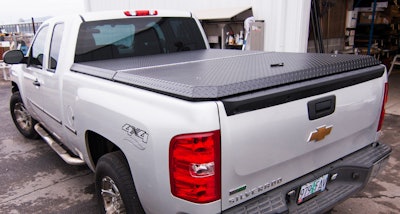 Highway Products, Inc. has added an aluminum truck tonneau cover to its product line, which ranges from toolboxes and headache racks for pickup and semi trucks to aluminum flatbeds, service bodies, truck bed slide-out cargo trays and pickup packs.
"We learned very quickly what products weathered the elements," says Gene Gros, President and founder of Highway Products. "Aluminum not only stronger than fiberglass covers but lasts virtually forever and you get the benefit of light weight. All Aluminum Truck Tonneau Cover is tough enough to earn the HPI name and be covered by our lifetime warranty. Keep your valuables safe and secure from bad weather and thieves. Highway Products sets a new standard in security."
While the tonneau cover is closed and locked, your tailgate can still easily be opened for easy access to your truck bed. The Tonneau Cover folds in half easily, so you can carry tall items when necessary, the company says.