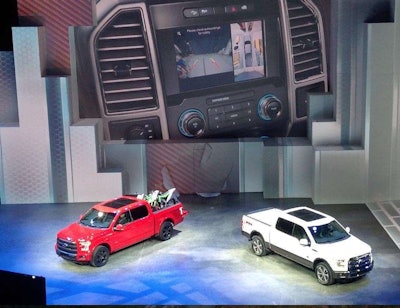 Ford Motor Company on Tuesday reported 2013 full year pre-tax profit of $8.6 billion, one of the company's best years ever, driven by the highest pre-tax profit in its automotive unit in more than a decade.
Ford has posted a pre-tax profit for 18 consecutive quarters. Fourth quarter net income was $3 billion.
The fourth quarter results in North America were driven by a strong industry, a robust full-size pickup segment, Ford's strong product lineup, growth in U.S. market share, continued discipline in matching production to real demand and a lean cost structure — even as the company invested more in product and capacity for future growth.
For the full year, wholesale volume and revenue both improved 11 percent compared with 2012. North America's operating margin was 9.9 percent, half of a percentage point lower than a year ago, while pre-tax profit was $8.8 billion, up about $400 million.
As part of the UAW-Ford collective bargaining agreement, Ford's North America pre-tax profits will generate profit-sharing payments of approximately $8,800 per eligible employee on a full year basis, according to the company.
"We had an outstanding year in 2013, demonstrating that our One Ford plan continues to drive solid results and profitable growth for all," says Alan Mulally, Ford president and CEO. "We are well positioned for another solid year in 2014, as we continue our plan to serve customers in all markets around the world with a full family of vehicles — small, medium and large; cars, utilities and trucks — with the very best quality, fuel efficiency, safety, smart design and value."
In 2014, Ford says it will continue to invest in products such as the all-new F-150 to ensure it has the freshest and most attractive product line-up in the industry.
As a result, Ford expects 2014 to be another solid year and a critical next step forward in implementing its One Ford plan to continue delivering profitable growth for all.
"This year will be an important next step as we build an exciting, stronger growing business based on outstanding products that customers want and value around the world," says Mulally.