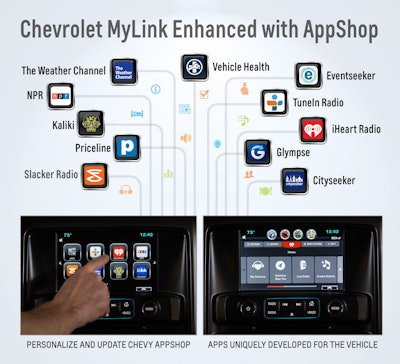 Bowtie brand models in U.S. and Canada to get OnStar 4G LTE by summer
Starting this summer, Chevrolet will have some of the fastest vehicles on the roads, and that has nothing to do with horsepower.
It was just announced at the Consumer Electronic Show (CES) in Las Vegas that Chevrolet drivers will be enjoying high-speed data – made possible by a new OnStar 4G LTE connection in the vehicle, running on AT&T's network.
The speedy connectivity roll-out will begin with the 2015 Chevrolet Corvette, Impala, Malibu, and Volt followed by the Equinox, Silverado, Silverado HD, Spark and Spark EV.
4G LTE will bring a built-in Wi-Fi hotspot to most Chevrolet vehicles, which allows passengers to connect their personal devices, such as smartphones, laptops and tablets, to high-speed wireless internet. A boon for business owners.
Each vehicle can accommodate multiple devices at one time.
With OnStar¹s 4G LTE connection, the vehicle acts as a mobile hub, giving customers easier access to apps and services that require a high speed cellular or data connection. The vehicle will employ a wireless connection that does not rely on a brought-in mobile device.
Chevrolet AppShop
Another connectivity feature coming is AppShop, a new feature in Chevrolet MyLink.
Chevrolet AppShop is accessible through an icon on the MyLink screen that allows owners to view all available apps and download them directly to the vehicle, then organize, update or delete them as needed.
Available apps will connect drivers to vehicle data, music, news, weather, travel information and more.