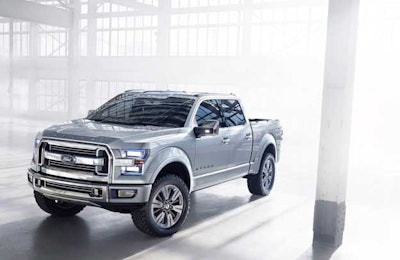 According to those familiar with the company's plans, Ford is expected to debut an aluminum-construction F-Series at next month's Detroit auto show.
Yes, you read that right.
The most popular and successful truck in the history of the world appears to be shedding weight (and steel) in favor of aluminum, and it could be on display as early as January.
"This is already the most significant debut at the auto show," Joe Langley, a production analyst for researcher IHS Automotive, told Bloomberg. "Everybody's going to be dissecting that thing for a long time, especially since Ford will be taking such a big gamble."
Experts say Ford's switch to aluminum will cut enough weight to help the truck inch closer to rising fuel-economy standards in the U.S. An average of 54.5 miles per gallon is required by 2025.
People familiar with Ford's plans say the company has already begun building prototypes that will debut in Detroit.
Ford has clamped down on discussing any details of the coming F-150, but the 2015 installment is rumored to be the most innovative versions of the F-Series to-date, with a range of turbocharged engines, use of aluminum in construction, and possibly a 10 speed transmission.
The aluminum-based truck would be part of Ford's 2015 model year, and the prototype will reportedly get close to 30 miles per gallon highway, up from an estimated 23 mpg highway from the 2014 model F-150.
Industry experts says the switch from steel to aluminum won't be seamless. Factories could have to shut down for up to six weeks in order to switch out machinery and robots used to build the trucks for similar components that can better handle the lighter-weight metal.