There may be no better way to honor a collection of elite military personnel that with a tricked out pickup truck.
Operation Raptor, a 2013 black Ford Raptor SuperCrew designed to commemorate the 50th anniversary of the Navy SEALs, was conceived in 2005 by Randy Hayes and Nix White, SEAL (retired) to raise awareness for the ongoing needs of the critically injured Special Forces community and for all active duty veterans and their families.
"We are honored to have the opportunity to support this important cause. It is the least we could do as a company to help spread awareness of the ongoing needs of veterans in all branches of the military – and what a great way to connect and show our support through the sponsorship of a truck," commented Bob Tyler, president of Husky Liners, who is sponsoring the truck.
The Husky Liners Navy SEAL Raptor is the first of six custom Raptors released at Ford World Headquarters in November. The Special Forces Raptors will tour across the country during 2014-2015 employing critically injured Special Forces Veterans who will interact with the public, explaining their service and the obstacles they face as critically injured disabled veterans.
The themes will honor each of the five Special Forces Units including Navy SEALs, Army Special Forces, Army SOAR (Special Operations Aviation Regiment), Air Force Commandos, MARSOC: Marine Corps Special Operations Command and Special Forces K-9s.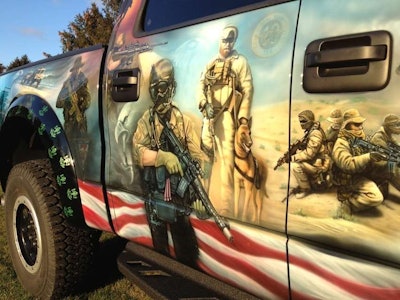 All six Raptors will be auctioned off after the last tour date in 2015 at Barrett-Jackson. Donations that are made to the program benefit charities that support each part of the Special Forces Green Beret Charitable Trust, MARSOC Foundation, Air Force Commando's Association, Phoenix Patriot Foundation and Warrior Dog Foundation
The Husky Liners Navy SEAL Raptor was airbrushed by artist Mickey Harris and is covered with images that chronicling Navy SEALs in combat dating back to World War II. It took two full months to airbrush the scenes on the Raptor and all of the airbrushing has been created from actual historical photos.
"If you start from the driver's front fender and walk counterclockwise around the truck you'll see a historic timeline from World War 2 through the Korean War in the 50s, the Vietnam War in the 60s and early 70s to Panama, Grenada, Desert Storm, the Iraqi War and the Afghanistan conflict," says Randy Hayes, president and founder of America's Fallen Heroes, the organization responsible for the Navy SEALs Raptor project.
The Husky Liners Navy SEAL Raptor will tour across the country raising awareness and funds for critically injured Special Forces Operators.
Below is a list of upcoming events:
December 19: Ft. Riley, Kansas / Dick Edwards Ford Dealership
December 20: B&W Trailer Hitch and Husky Liners plant
January 1: Rose Bowl
January 5: San Diego Coronado Island
January 6: BCS championship
January 7-8: Ford Dealership Los Angeles
January 9: San Diego
January 11-17: Shot Show, Las Vegas
January 18-19: Barrett Jackson, Scottsdale
January 21-26: Detroit Auto Show