Which takes priority: The towing capacity of the hitch – or the tow rating of the pickup? The answer may surprise you
By G. R. Whale
It took less than 60 seconds to find a web forum with an error in omission regarding hitches, the forum part of a commercial website and not a clueless basement blogger.
An owner of a 2001 F-350 had new, heavier equipment and a trailer, and wanted to upgrade his pickup's receiver hardware to accommodate the 8- to 10-ton load.
The forum specialist replied with a series of 9-ton hitch options for pickups, noting cab and chassis models may differ.
That's zero to illegal in three sentences or less.
Why? Because the forum specialist's advice is bad; neither the pickup owners nor the forum's specialist mentioned the Ford's maximum tow rating, which our 10-year-old information gives as best-case 14,400 pounds fifth-wheel/gooseneck and 12,500 conventional towing using a weight-distributing hitch.
Using a 9-ton hitch option on that particular pickup exceeds the F-350's maximum towing capacity by more than 2 tons – and at worst by more than 6,000 pounds.
LEGAL & SAFETY MATTER
Such bad towing advice is putting the pickup owner in a liability and negligence situation, not to mention setting the pickup up for serious handling, braking and mechanical issues.
There was also no mention of weight-distribution, which was typically required on towed loads greater than 5,000 pounds for most pickups up to 2008 when the 2 ½-inch receiver began showing up as a factory-installed hitch.
This 5,000 pound maximum towing capacity (sans the W-D hitch) included all 2-inch-tube Class III and IV hitches on Ford products from the F-150 to the F-350. Check out Ford's towing guide.
CONVENTIONAL TOWING
Virtually all pull-behind towing, which is called "conventional towing" by the pickup manufacturers, is done with a tow ball, pintle hook or combination connected to a receiver hitch.
Tow balls are the more common globe-on-a-stand devices.
Pintle hooks the lobster claw that adds an element of security by encircling the lunette eye attachment of the trailer, and also a degree of articulation helpful on sharp dips.
Combinations use a tow ball with the upper half-moon section of a pintle hook.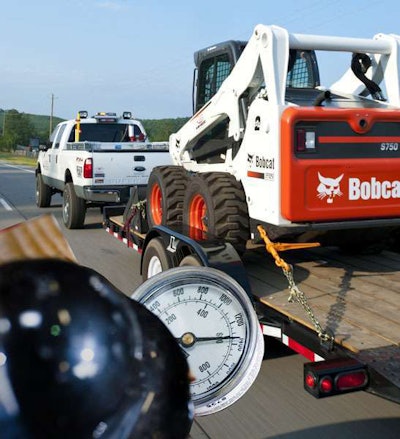 Receiver hitches are offered in classes using Roman numerals from I to V, though standardization may not be what you thought.
If you tow no more than a small mixer or portable light stand, even a Class II hitch is sufficient, rated at 3,500 pounds trailer and 350 pound tongue weight.
HITCH CAPACITIES
Class III hitches are typically rated for 5,000-pound loads, but we found at least one named Class III rated at 10,500.
Class IV hitches are usually for 10,000-12,000-pound trailers and 10-percent tongue weights with weight distribution. In the upper ranges, hardware is constantly being added to reflect ever-higher truck tow ratings.
Class V hitches with a 2-inch square receiver (like Class III and IV) run beyond 15,000 pounds, though variables include weight-distribution and whether it's a pickup or cab-and-chassis/service-body mount.
The newer 2.5-inch receiver tube ups Class V to 18,000 pounds with tongue weight around a ton weight-carrying and 2,500 pounds if a weight-distributing head is used.
On the high end of the towing scale, a 3-inch Class V can carry up to a 25,000 trailer and 4,000 pounds tongue weight in the ball or pintle hook.
We found receiver-mount pintle hooks rated for 10,000-25,000 pounds, the latter on a 3-inch receiver. We found 2-inch tow balls rated to 17,000 pounds and 2 5/16-in. balls to 20,000 pounds.
Curiously, at least one manufacturer of an 18,000-pound Class V that publishes tongue load with and without weight-distribution does not list any weight-distribution hardware greater than 17,000 pounds.
DRIVER RESPONSIBILITY
And therein lies an oft-overlooked component of towing:
Everything aft of the hitch has a weight rating — ball mount or drawbar, hitch pins, safety chains, etc. — and the lowest load rating of any part brings the whole system down to that level.
The weakest-link in the towing/hauling mechanical chain determines the capacity up until those weights reach the vehicle manufacturer's capacity limits. Then the vehicle manufacturer's limits are the final word.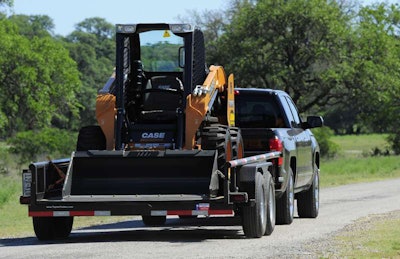 Sure, you can build a truck to be more stable when carrying or towing heavy loads with the addition of springs, airbags, larger brakes, more robust cooling and bigger hitch hardware.
But nothing you add or modifications that are made to the tow vehicle raises the tow rating or relieves the driver of the responsibility to use the hardware the manufacturer requires for that vehicle to be "properly equipped" when towing a load. – Pro