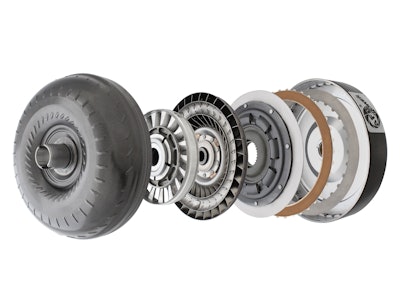 aFe Power has announced the release of the F3 Torque Converter Lines for diesel trucks.
The company says installing the F3 torque converter will lower stalls speed to as low as 1,200RPM giving you the perfect range for diesel trucks up to 1,000hp. The results of using an F3 torque converter are improved 0-60mph times (by up to 1-second), increases in towing speeds, lower transmission fluid temperatures and a more satisfying driving experience, according to aFe.
The F3 Torque converters use a 3-clutch pack assembly which offers up to 3 times the torque capacity of the single clutch OE torque converter and allows crisper shifts in high gears, smoother power transmission and improved pulling power while reducing transmission fluid temperatures. Round clutch tips are used to optimize fit and clutch wear. A custom designed stator (with one-way sprag clutch) is used for torque multiplication to stall speed. F3 Converters come with Torrington thrust bearings for maximum strength replacing the stock OE plastic bushings, the company says.
The billet steel front cover is used for increased strength and durability over the factory stamped steel cover. The F3 turbine fins are brazed for maximum strength even under the harshest conditions and high torque transfer. Damping Springs are used on the clutch assembly for a smooth power transition during acceleration, optimizing your available torque. The one-piece stamp forged steel lid uses reinforced ribs for structural support and ultra-high torque capacity. The F3 torque converter comes with a limited lifetime warranty.
F3 Torque Converters retail for $999.25 and will be shipping the first week of November 2013.