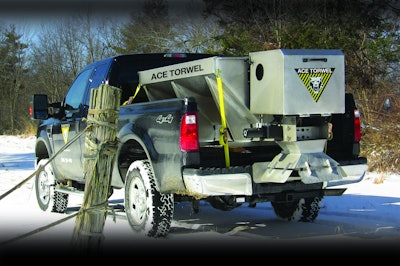 ACE Torwel, Inc.'s snow and ice management division says it has improved its Economizer gas-over-hydraulic pick-up truck spreaders.
Performance advancements target more efficient, reliable snow and ice control in 1.3, 1.7, 2.5, and 3.0 cubic yard models.
ACE Torwel's improved Economizer gas-over-hydraulic V-box spreaders are lightweight and feature stainless steel or painted 14-gauge steel construction. The spreaders are powered by a quiet 5.5 hp Honda gas engine with electric start.
Operators can control the flow of material with an in-cab control panel that features electric start, choke, throttle, conveyor controls and adjustable material deflectors.
An optional 12" chute extension is also available.
The Economizer pickup spreader has a quiet hydraulic drive with built-in overload protection, and self-adjusting conveyor tensioner that aids in performance and chain life.
Each unit includes everything needed for installation, including heavy-duty woven top screen top, 12V battery and box, tie-down straps and wood runners.
Options include 304 stainless steel, 12" chute extension, replacement spinner disks, headboard (cab shield), and inverted "V" design (conveyor bridge).