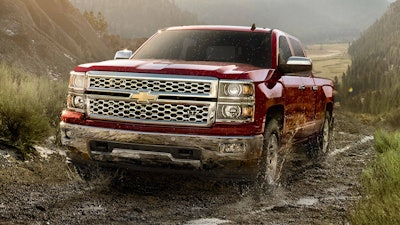 The newly redesigned and highly anticipated 2014 Chevy Silverados have begun arriving at markets across the U.S.
Among the most noticeable changes, the 2014 Chevy Silverado has replaced some of its V6 and V8 engines from 2013 with EcoTec3 models, which are designed to produce more power and torque while also providing improved fuel-economy.
Those EcoTec3 engines utilize direct injection, variable valve timing, and cylinder deactivation technology to optimize efficiency and help boost towing and payload capacities.
The Chevy Silverado was the second best selling vehicle in America in 2013, and cosmetic changes to the truck's exterior are minimal from year's prior.
The 2014 installment features a slightly broader front end with an uptick in chrome. The truck loses some weight and is more aerodynamic, resulting in less wind noise and improved economy, according to GM.
GM has added a notched step-up at each corner of the rear bumper, for easier access to the bed, as well as hand grip pockets at the rear of the truck. Extended cab models feature traditional hinge-forward rear doors.
The Silverado comes with a 285-horsepower, 4.3L EcoTec V-6, a 355-horsepower, 5.3L EcoTec V-8 or a 6.2L EcoTec V-8 (available this fall). All engines are paired with a six-speed automatic transmission.
Chevy's Max Trailer Package that is set to be available this fall, the Silverado will have a trailering capacity of 11,500 lbs. behind the 5.3-liter EcoTec3 V8. Features like Trailer Sway Control with StabiliTrak help keep cargo secure while using smart technology to reduce engine power when cargo swaying or rocking is detected.
Currently available only in a crew cab, additional variations of the Silverado will be made available throughout the year, in addition to the heavy-duty 2500.