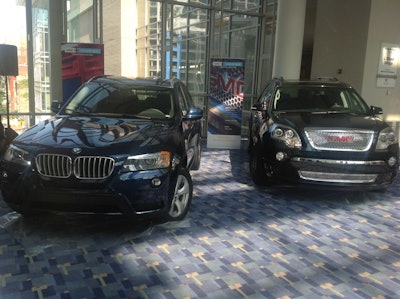 Hoping to inch closer toward finding a spot in American driveways, the American Gas Association and America's Natural Gas Alliance unveiled six bi-fuel vehicles Tuesday.
The vehicles, which run on either gasoline or compressed natural gas, were all model year 2012 and included a Hyundai Sonata, Ford Mustang GT, Honda CR-V, BMW X3, GMC Acadia Denali and a Chrysler 300C.
[youtube _E3NmdMt5lI nolink]
The six vehicles, which are slated for use as clean-energy show cars, are the only six of their kind. However, aside from their CNG retrofit, they are barely different from their mass produced counterparts.
"Consider these concept cars," Kathryn Clay, Executive Director of the Drive Natural Gas Initiative, says. "These are visionary vehicles; visions of what is possible (with natural gas usage in passenger cars.)."
Each car is equipped with a standard-size fuel tank and a "pony" CNG tank ranging in size from 2.6 to 9 gasoline gallons equivalent. The CNG range on each vehicle varies from 55 to 180 miles.
The most fuel efficient of the lot was the Sonata. Its 574 mile combined fuel range provided 28 miles per gallon fuel economy.
Clay said it was important to note that adding the pony tank to the vehciles didn't take away any interior storage.
"No trunk space was lost," she says.
Each vehicle has been EPA certified as a prototype stateside and similar models are already in use overseas.
"Of all the natural gas vehicles all over the world," Clay says, "only 1 percent are in use in the United States."