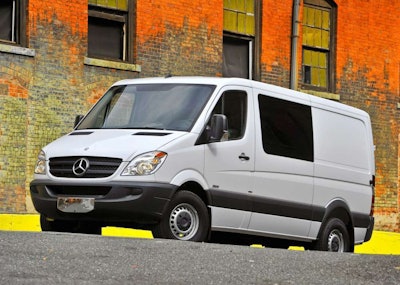 Mercedes-Benz Sprinter has been awarded the "2013 Best Fleet Value in America" award from Vincentric for the second consecutive year for three of its most successful models.
Vincentric analyzed more than 3,400 vehicle configurations in 20 different lifecycle cost scenarios, using eight cost factors including depreciation, fees, and taxes, financing, fuel, insurance, maintenance, opportunity cost, and repairs to determine its winner.
"Winning the Vincentric Best Fleet Value in America award for the second time in a row for our 3/4 Ton Passenger Van, 3/4 Ton Full Size Cargo Van, and 1 Ton Full Size Cargo Van is confirmation that owning a Mercedes-Benz Sprinter will provide the most compelling real-world cost of ownership to our valued customers," Claus Tritt, General Manager of Commercial Vans for Mercedes-Benz USA, says.
The lifecycle costs were measured in all 50 states plus DC, with over 25 million lifecycle cost measurements being used to determine the winning vehicles, the company says.
"Our awards look to provide guidance to all types of fleet buyers, and the fact that we have winners from a variety of manufacturers illustrates the growing competition in the fleet market," David Wurster, President of Vincentric, says. "By segmenting the awards and analyzing different mileage/lifecycle timeframe scenarios, vehicle buyers have guidance for determining the fleet vehicle that best meets the needs of their organization."