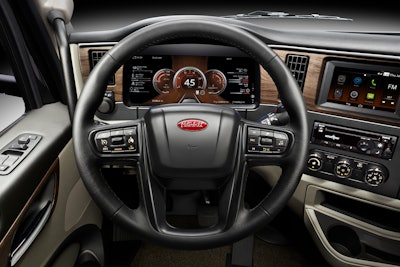 ZF
ZF announced today that it is supplying its OnTraX Lane Keeping Assist technology on Kenworth and Peterbilt trucks built in 2023.
The announcement marks the first time ZF's driver-assistance technology will be available on a commercial vehicle platform in North America.
"We're very pleased to partner with a global leader like PACCAR to integrate this critical safety technology into their newest truck platform," said Julien Plenchette, Senior Vice President, Americas with ZF's Commercial Vehicle Solutions division. "We continue to work closely with our Commercial Vehicle customers to provide ADAS technology that can help to make the roadways safer for all travelers."
OnTraX activates once it determines the truck is within its lane and traveling 40-plus mph, or cruising speed. A forward-facing camera detects the edges of a marked lane and enables the lane keeping assist technology.
If the tractor starts drifting out of its lane without activating the turn signal, the system using on-board processors, develops an action plan. Then, the ReAX adaptive steering module adjusts the steering torque and offers a gentle counter–steer, or slight nudge, to push the truck back into the appropriate lane.
When the turn signal is on, the driver can cross the lane without intervention. The system is also designed to recognize critical maneuvers due to hand wheel speed input from the driver and ceases correction during obstacle avoidance.
The technology will be produced at ZF's Queretaro, Mexico facility.