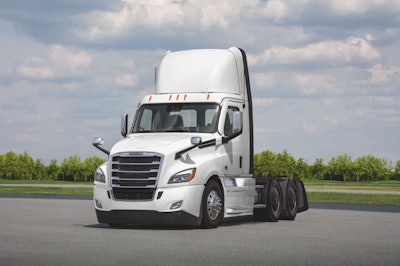 Freightliner
More than 105,000 Freightliner trucks recalled for steering issue
Daimler Trucks North America is recalling approximately 105,183 model year 2019-2021 Freightliner Cascadia tractors due to a potential issue in the steering system, according to National Highway Traffic Safety Administration documents.
According to the recall, the drag link taper joint in the affected trucks may not have been tightened sufficiently and could come loose, resulting in a complete separation of the drag link from the steering arm. Separation of the drag link can cause complete loss of steering control.
DTNA dealers will inspect the drag link taper joint and repair it as necessary. Owners can contact DTNA's customer service at 1-800-547-0712 with recall number FL-900. NHTSA's recall number is 21V-689.
Truck stops, fuel marketers push for extension of biodiesel tax credit
Truck stop organization NATSO, fuel marketers organization SIGMA and representatives of the trucking and convenience store industries penned a letter to Congressional leaders asking for an extension of the $1 per gallon biodiesel tax credit in the upcoming budget reconciliation package. The groups also asked Congress to ensure tax parity for any new credits awarded for transportation fuels that compete for the same feedstocks.
The organizations specifically warned that more favorable tax treatment to other transportation fuels, such as sustainable aviation fuel (SAF), would increase diesel prices as well as carbon emissions, since SAF production is a less efficient process than renewable diesel and biodiesel production.
Any differential between the tax incentive for SAF and biodiesel or renewable diesel fuel would result in taxpayers paying more to realize less environmental benefits, the organizations said in a letter to House and Senate Leadership. The letter also was sent to the Chairmen and Ranking Members of the House Committee on Ways and Means and the Senate Finance Committee.
Renewable diesel and renewable jet fuel are key tools in decarbonizing the diesel and aviation sectors and reaching climate goals. However, both technologies utilize the same feedstocks to produce renewable fuel. If renewable jet fuel receives a higher tax benefit than renewable diesel or biodiesel, "the outcome would not be lower aggregate greenhouse gas emissions, but rather a migration of renewable fuel feedstocks away from their existing, efficient use in over-the-road trucks to a less efficient use in airplanes," the letter states.
Indemnity Insurance partners with insurtech company Cover Whale
Insurtech company Cover Whale Insurance Solutions has partnered with Indemnity Insurance Company, an excess and surplus lines insurer with the Everspan Group, to offer a Commercial Trucking Program.
The Commercial Trucking Program targets owners of small trucking companies, including common and contract carrier operations, such as commercial truckers, common carriers, contract carriers, freight haulers and intermodal carriers.
Cover Whale offers underwriting and data tracking via its proprietary underwriting platform. The platform's use goes beyond the underwriting stage and into the post-binding stage with automatic portfolio data tracking, allowing Cover Whale and its (re)insurance partners to have real-time monitoring, oversight, and reporting in an easy-to-use dashboard.
Utility reefer trailers recalled for incorrect roof tape
Utility Trailer is recalling approximately 260 model year 2022 Utility VS2RA reefer trailers because the incorrect tape was installed on the top foil, which could result in the sealer plate separating from the roof.
The recall states that a separated sealer plate could become a road hazard.
Dealers will inspect the adhesive used on the affected trailers and replace it if necessary. Owners can contact Utility Trailer's customer service at 1-800-423-6591 with recall number SB-19-009. NHTSA's recall number is 21V-676.