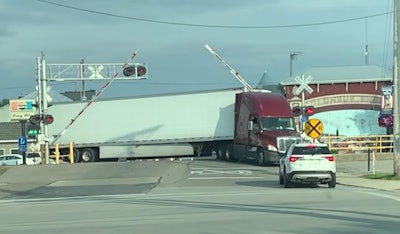 ViralHog
Why doesn't he move?! He's just sitting there.
It's hard to say at this point why a tractor-trailer in Ohio ended up stopped across some train tracks recently in Columbus Grove, Ohio.
At least no one was injured as the trailer was smashed and dragged about 250 yards by a CSX freight train according to hometownstations.com.
A video recorded by a nearby driver shows the unforgettable and lamentable action as the train rips the trailer away from the tractor. Moments later, the truck driver is seen driving what's left of his rig towards a nearby gas station.