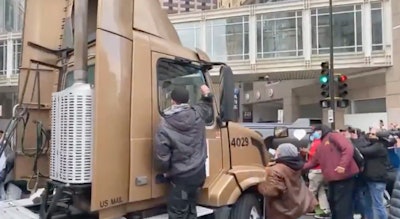 A 10 Roads Express driver was confronted by an angry mob yesterday while driving a route that took him through downtown Minneapolis.
Video posted on Twitter shows the day cab coming to a stop at an intersection where people had gathered for the jury verdict in the trial of Minneapolis Police Officer Derek Chauvin who was found guilty of murdering Minneapolis resident George Floyd.
People bothered by the truck are shown in the video pounding on its windows. One man is also shown climbing on top of the hood and moments later is seen jumping off.
The driver began honking the truck and slowly drove off as protestors clung to the truck and yelled. No injuries were reported.