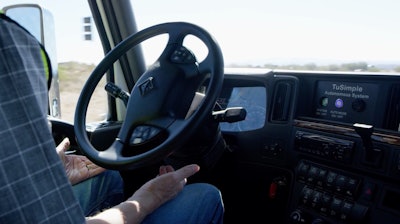 TuSimple
Parcel delivery giant DHL Supply Chain has signed up for dozens of autonomous Class 8 trucks, but they won't be all-electric—at least not yet.
Self-driving tech company TuSimple recently announced that DHL will receive 100 International LT trucks in the U.S. equipped with TuSimple's SAE Level IV self-driving systems. The trucks are expected to roll out in 2024 and according to TuSimple's partner Navistar, will be spec'd with "a heavy-duty diesel engine and standard automated manual transmission."
However, DHL has its sights set on battery-electric autonomous trucks once range improves.
"The plan is for the trucks to be battery-electric when battery life improves," a DHL spokesperson told CCJ. "Current testing is done with diesel trucks because of the 200-mile range currently available."
[Related: Veteran trucker describes life inside an autonomous truck]
Navistar's sole all-electric truck is the International MV 60E, a medium-duty straight truck that maxes out at 33,000 lbs. of GVWR. International LTs are Class 8 heavy-duty trucks available in a variety of configurations from a day cab to a 73-inch Sky Rise Sleeper. LTs are not currently available with electric powertrains.
"Battery electric powertrains are not in the current scope of the TuSimple project," a Navistar spokesperson told CCJ.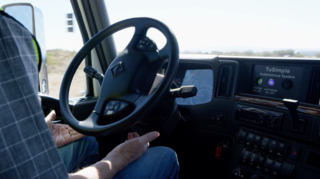 TuSimple's SAE Level IV autonomous system uses LiDAR, radar and HD cameras to provide a 360-degree view that extends up to nearly two-thirds of mile from the truck.TuSimpleWhen asked about plans for adding self-driving systems to electric and fuel-cell trucks, a TuSimple representative told CCJ, "The timing will be addressed once the technology has advanced."
While DHL would not answer specific questions regarding how and where the autonomous trucks would be used, they did issue the following statement:
Our partnership with TuSimple is still in its infant stages but we look forward to deploying autonomous vehicle technology at scale across multiple regions to support our digitalization and sustainability strategy. DHL Supply Chain is vendor agnostic, which allows us to partner with the optimal suppliers and technologies to address different challenges in different regions, where necessary, and to scale the technologies that prove themselves within our operations across multiple regions.
TuSimple President and CEO Cheng Lu welcomed the deal with DHL and said it signals growing interest for self-driving technology that can help improve a fleet's bottom line.
"We're excited to be working with DHL, one of the world's largest logistics leaders, to help them adopt, integrate and scale our autonomous trucking technology into their operations," Lu said. "This new partnership further validates the appetite for autonomous trucking technology as the industry looks for ways to increase freight capacity, improve safety, and control operating costs."
In addition to partnering with Navistar, San Diego-based TuSimple has contracted to produce self-driving trucks with Traton, Volkswagen's truck subsidiary in Europe.
DHL recently reported a record surge in ecommerce-related business during the peak holiday shopping season between Nov. 26 and Dec. 3 which generated an additional 15% in ecommerce network growth over last year's record peak holiday shopping.
Benefits of AV technology
TuSimple has continued to attract fleets following its founding in 2015. Earlier this year, some of the nation's biggest carriers, including Penske Truck Leasing, Schneider and U.S. Xpress, placed reservations for Navistar LT trucks equipped with TuSimple self-driving systems. Reservations in May amounted to 6,775 SAE Level IV autonomous trucks scheduled for delivery in 2024.
DHL committed to buying 100 trucks through TuSimple following a positive experience earlier this month with TuSimple's San Antonio-to-Dallas Autonomous Freight Network that relies on Level IV autonomy.
"Partnering with leading-edge technology companies is foundational to our digital transformation strategy, and TuSimple will play a key role in supporting our adoption of next wave transportation solutions," Jim Monkmeyer, president of transportation at DHL Supply Chain, said in a TuSimple press release. "We share TuSimple's vision of utilizing efficiencies to drive a more sustainable future and have been encouraged by the results so far."
At a time when truck accidents can result in financially devastating nuclear verdicts, TuSimple reports on its website that its self-driving system can provide freight transportation that's "safer, more efficient, and on-demand."
TuSimple trucks are SAE Level 4 which the company states "can achieve full automation without human intervention under defined driving conditions. Most other autonomous trucks are operating at SAE Levels 1 through 2 and, according to SAE guidelines, Levels 1 through 3 require consistent human intervention."
LiDAR, radar and HD cameras provide a 360-degree view that extends up to 3,280 feet away or nearly two-thirds of a mile from the truck. This extended view provides a roughly 30-second window for the system to respond to various situations when traveling at highway speeds.
Automated steering, acceleration and braking also results in a roughly 10% improvement in fuel economy, according to TuSimple, compared to trucks controlled by human drivers.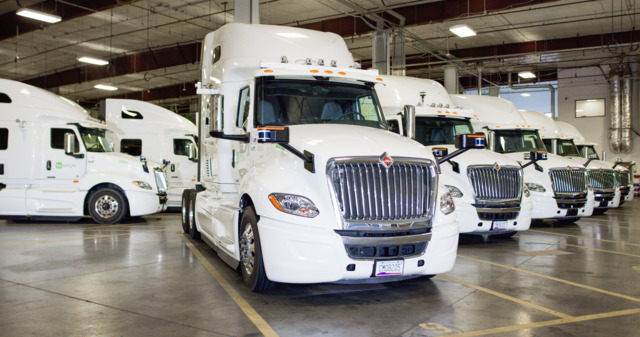 A partnership that spans more than three years between TuSimple and Navistar has resulted in over 2 million miles of real-world autonomous truck testing.TuSimple