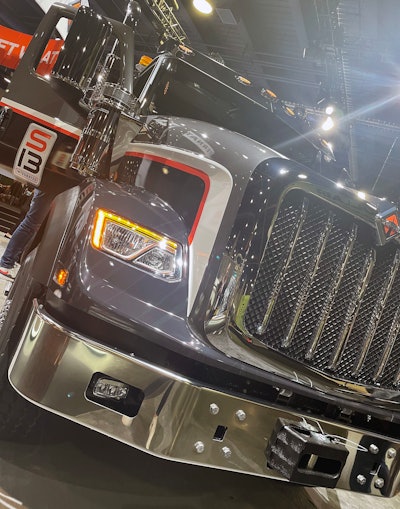 Navistar
Navistar is bringing its new International S13 Integrated Powertrain to its HX Series work truck, the company announced Tuesday at ConExpo in Las Vegas.
The S13 Integrated Powertrain, Navistar's first in-house designed and engineered powertrain, and the first new International on-highway product since regulators approved Volkswagen subsidiary Traton Group's July 2021 takeover of Navistar, debuted last summer for LT and RH models.
Deploying a modular design approach that allows for customization, the S13 Integrated Powertrain consists of three distinct components: an engine, a transmission and an aftertreatment system – all designed and developed concurrently to ensure compatibility and integration between the systems.
[Related: A quick spin in International's new global powertrain]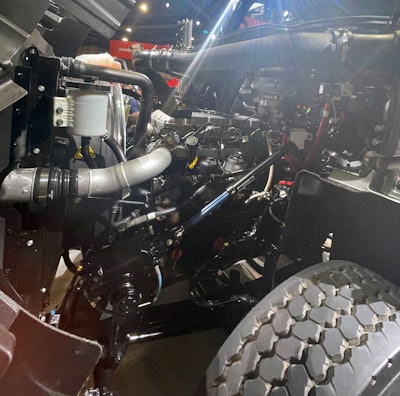 The 13-liter International S13 engine (rated up to 515 horsepower and 1,850 lb-ft of torque) achieves advanced fuel efficiency and performance through a clean-burn combustion strategy and a reduction of friction and pumping losses, and is Navistar's first engine designed with selective catalytic reduction (SCR) technology as the primary emissions reduction technology.
To keep temperatures at an optimal range and extend service intervals, the aftertreatment system includes a dual-stage SCR catalyst system in a one-box design.
The absence of an exhaust gas recirculation (EGR) cooler allows for nearly all exhaust to flow to the fixed geometry turbocharger, equating to more power and improved engine performance, and since an EGR cooler was eliminated from the combustion process, less soot and particulate matter are generated. A cleaner combustion cycle allows for extended service intervals and eliminates the need for the diesel oxidation catalyst (DOC) and active regeneration.
"Vocational trucks often spend quite a bit of time idling on a job site, which has historically required more frequent active regens," said Mark Stasell, vice president of Navistar's Vocational Truck Business "The aftertreatment system of the S13 Integrated Powertrain, combined with the engine combustion strategy, vastly reduces the need for both active and parked regens."
The International T14 Transmission – a 14-speed automated manual transmission (AMT) – combines the transmissions low range and six reverse gears through a planetary gear set. It combines two deep crawler gears and a wide 26.7 overall ratio for low-speed maneuverability, exceptional startability and enhanced performance.
The T14 Transmission also features vocational-specific drive modes, including off-road mode, manual mode and paver mode – drive modes that combine with other vocationally focused functionalities, such as split-shaft mode and rocking mode, which breaks the truck free when stuck.
As part of the clean sheet design, shifting logic and integrated software controls maximize efficiency and performance resulting in gear shifting that is perfectly matched to engine revolutions. The T14 also uses an electronic clutch actuator with controls integrated with the engine to deliver faster, smoother shifting.
Multiple spec'ing options are available for various vocational customer applications including front-engine power take-off (FEPTO), rear-engine power take-off (REPTO) as well as single and dual output transmission PTOs. All PTO options are factory-installed at Navistar's Integrated Powertrain Plant in Huntsville, Alabama, and carry the warranty of the T14 transmission.
The S13 Integrated Powertrain also takes advantage of Navistar's Diamond Logic electrical system to optimize body integration, convenience and safety features, providing both chassis upfitters and customers maximum flexibility, simplicity, and functionality.