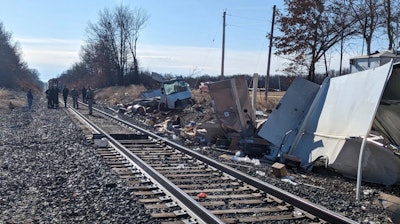 Cass County Sheriff's Office
A 34-year-old FedEx driver was killed this week after crossing paths with a train about 10 miles southeast of Kansas City, Missouri.
According to a crash report from the Missouri State Highway Patrol, FedEx driver Patrick Metz of Kansas City, Mo. failed to stop at a railroad crossing at Hereford Road and was struck on the driver's side by an Amtrak Charger SC-44 locomotive around 9:30 a.m. Tuesday.
Metz was ejected from the 2022 Ford box truck and pronounced dead at the scene. Parts of the truck as well as dozens of packages were left scattered along the track. The truck is owned by Pineapple Express P&D in nearby Kansas City.
No injuries were reported on the eastbound passenger train which sustained minor damage.