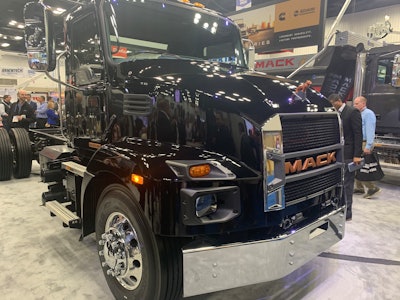 The MD model now holds two distinctions in the Mack Trucks product suite: it was Mack's first all-new truck model since the 2017 debut of Anthem. Twice.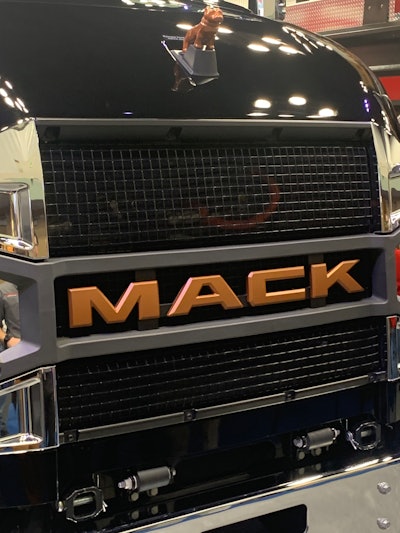 When the MD6 and MD7 debuted in 2020, the Cummins B6.7-powered trucks represented Mack's re-entry into the medium duty segment that the company exited 20 years ago with the retirement of the Freedom. On Wednesday at Work Truck Week in Indianapolis Mack announced a battery electric version of the MD – Mack's first on-highway electric model that sits alongside Mack's LR Electric refuse truck in the company's zero emissions line.
Like its diesel siblings, the Mack MD Electric will be available in Class 6 and Class 7, in 4x2 configurations, in wheelbases of 206, 221, 236, 251, and 270-inches, and features a bumper-to-back-of-cab (BBC) measurement of 103 inches.
The Class 6 model has a Gross Vehicle Weight Rating (GVWR) of 25,995 pounds, and the Class 7 model has a GVWR of 33,000 pounds. Mack's Senior Product Manager of E-Mobility Scott Barraclough noted the Class 7 model, equipped with the larger battery, is about 3,000 pounds heavier than a diesel-powered MD7. Models spec'd with the smaller battery, he said, are roughly 1,000 pounds heavier than comparable diesels.
Equipped with SEA Electric's SEA-Drive 120 and 180 power-systems, the MD Electric's three-phase Permanent Magnet Synchronous motor and all on-board accessories are powered by Nickel Manganese Cobalt (NMC) Oxide lithium-ion batteries; either 150kWh, enabling a range of up to 140 miles, or 240kWH, with range of up to 230 miles. It supplies up to 185 hp continuous power and 260 hp peak power. The electric motor drive (EMD) controls power flow from batteries to the motor and inverts DC battery power to AC.
A cooling box is frame-mounted on the driver's side behind the step, consisting of a radiator and two electric fans that cool the electric drive motor, EMDs, onboard charger and convertor.
The MD Electric can be charged through AC or DC charging units. An AC 19.2 kW on-board charger features a charge time of 6 to 11 hours. With DC 80 kW charging that drops to 100 to 150 minutes. A regenerative braking system helps recapture energy from the multiple stops the vehicle makes each day.
For vocational applications, a 13.4 hp electric PTO is available.
Rich Million, Mack's senior vice president of strategy and business development, expects first delivers to take place by the end of this year. The Mack MD Electric will be supported by Mack dealers, many of which are already Mack Certified Electric Vehicle dealers.
The Mack MD Electric will be produced at Roanoke Valley Operations (RVO) in Roanoke Valley, Virginia, where Mack kicked off production of the Mack MD Series in 2020. Mack ended last year with 5.5% medium duty market share, up about 2% year-over-year. RVO reached 5,000 units produced in February 2022, and less than a year later hit 10,000.